The Man Who Built The Glass House: Celebrating Philip C. Johnson
Written by Kelly Weimert on Friday, July 20th, 2018 at 3:24pm.
Image source: latimes.com
Other than the 4th of July and its associated festivities, the month of July also happens to hold one of our favorite architect's birthdays. Born on July 8th in 1906, Philip C. Johnson is a Harvard-educated architect best known for his own residence, dubbed The Glass House in New Canaan, Connecticut. Before entering the world of architecture, Johnson studied philosophy as an undergrad at Harvard. Upon graduation, he ventured to Europe where he observed many landmarks of classical and Gothic architecture and eventually met German architect, Ludwig Mies van der Rohe, who would become one of his greatest influences.
Just a few years after his formative European excursions, Johnson joined the New York Museum of Modern Art's architecture department. During his time there, he arranged visits from Le Corbusier and Gropius and is responsible for the first American commission for Mies van der Rohe. Additionally, he organized the Museum of Modern Art's first exhibit of modern architecture in 1932 and was the inaugural winner of the Pritzker Architecture Prize in 1979.
Architecture Style

Image source: behance.net
Johnson is famous for his flair for modern and postmodern architectural styles, which is no surprise given his close, collaborative relationship with Mies van der Rohe. Johnson designed the aforementioned Glass House using principles of space unification which he attributes in no small part to his observations of other architects, telling Esquire, "I got everything from someone. Nobody can be original. As Mies said, 'I don't want to be original. I want to be good.'"
Notable Work

Image source: skyscrapercenter.com
In addition to The Glass House, constructed in 1949, some of Johnson's other famous works include the Seagram Building skyscraper, built in New York City in 1945, and 550 Madison Avenue, also in New York City and formerly the AT&T building, a postmodern gem in city central built in 1978.
As he evolved as an architect, Johnson worked on smaller projects where he added personal flair using ornamental touches that you won't find in traditional modernist architecture. A stunning example is The Synagogue of Port Chester New York, which features a plaster vaulted ceiling and narrow colored windows, built in 1954.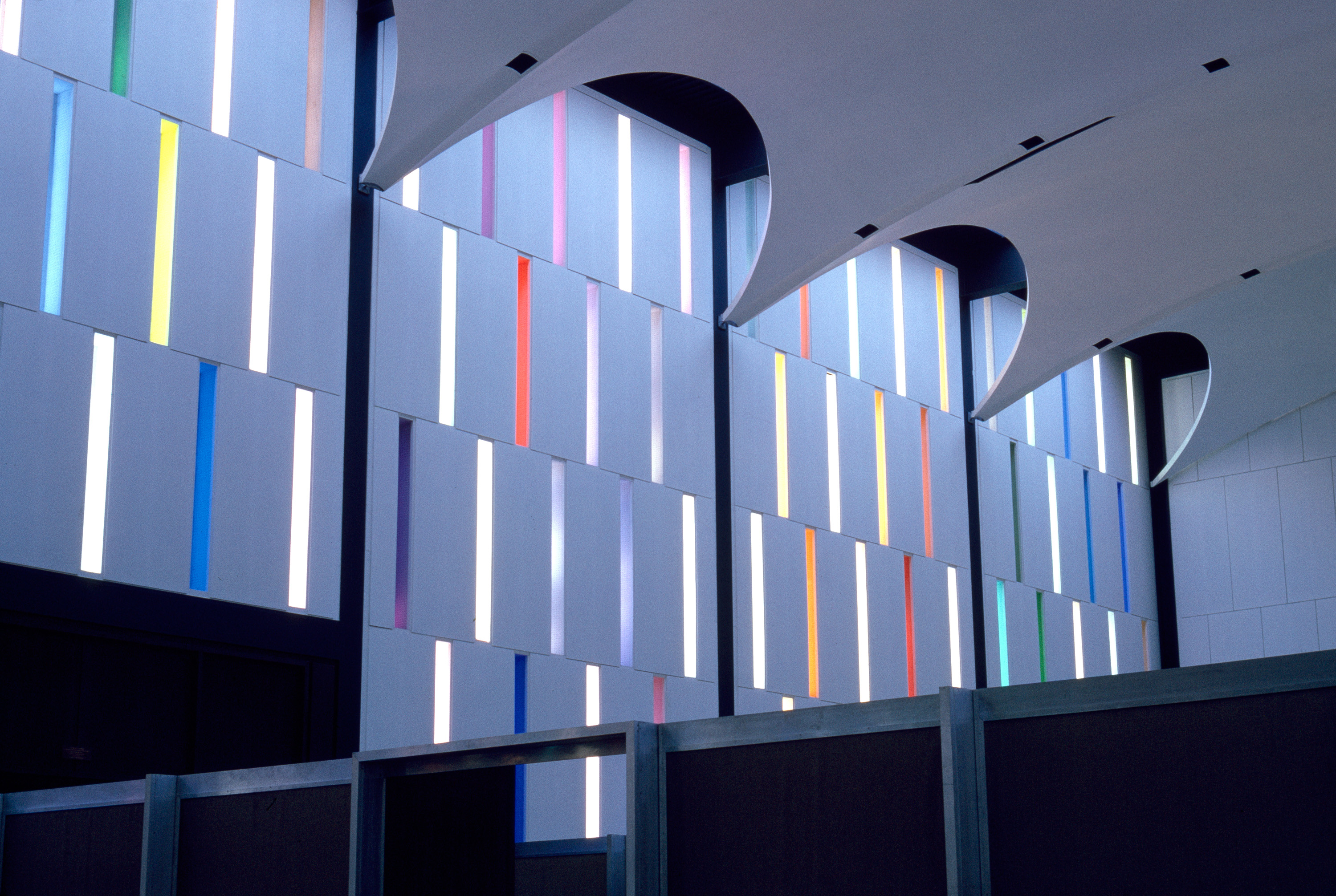 Image source: dome.mit.edu
Other notable works include the atrium of the New York State Theater at Lincoln Center, built in 1964; the monastery building at St. Anselm's Abbey in Washington D.C., built in 1960; and the Kunsthalle Bielefeld Art Museum in Bielefeld, Germany, built in 1968.
Fun Facts About Philip C. Johnson
Before he became an architect, Johnson was a political journalist.
The FBI investigated Johnson for his contacts with the German government during World War II, but he was ultimately cleared for service and enlisted in the U.S. Army.
Johnson was a correspondent for Charles Coughlin's populist and often-anti-Semitic newspaper, Social Justice.
Johnson was among the best-known openly gay American architects, publicly coming out in 1993.

Image Source: design in demand
Interested in buying a home in the modern architectural style Johnson is known for? Search With Style® and check out our modernist homes for sale in your neighborhood.
Leave a Comment