Top 10 Farm-to-Table Restaurants in Portland
Written by Kelly Weimert on Wednesday, August 22nd, 2018 at 4:05am.
If you've spent any time in Portland, then you know that it's overflowing with delicious bites from every type of cuisine you can imagine. But few meals are as fresh, flavorful, and all around delicious as those at farm-to-table restaurants.
Dining at a farm-to-table restaurant means that your meal was sourced locally, with seasonal ingredients at peak flavor, and more often than not, organically-produced. That means that not only is your dinner going to be more tasty, but it also supports the local farmers and producers in your community. And, fortunately for Portland residents, the city is full of unforgettable farm-to-table options and we've listed 10 of the best for you to enjoy.
Offering two seatings per night, at 6 and 8:45 pm, women-owned Beast is a dining experience unlike any other. As the name implies, Beast offers a wide range of unique meat-based dishes with a new six-course tasting menu each week. Expect to find dishes like Roasted Duck Breast, Stracchino di Capra Cheese, and Sweet Corn Gateau paired with hand-selected wines designed to enhance your meal's flavor.
This urban winery features four resident artisanal wine producers who are committed to sustainable business growth and development. You'll enjoy a wide selection of international wine options paired with food by Chef Althea Potter who provides locally-sourced, seasonal ingredients to make dishes like Whipped Ricotta, Roasted Summer Squash, and Half-Baked Chocolate Chip Cookies.
Considering that it grows its own produce onsite and sources the rest of its ingredients from farmers and fishers in the Pacific Northwest, it doesn't get much more farm-to-table than Meriwether's. Take a seat in the restaurant's idyllic garden, complete with a fire pit, and enjoy fresh dishes from Chef Michael Delaney, like White Truffle Reggiano, Dungeness Crab, and House-Made Focaccia.
Dungeness Crab Deviled Eggs... just sayin. pic.twitter.com/Ib7ycrgio9

— Meriwethers NW (@meriwethersnw) January 21, 2014
With entrees like Herb Butter Fried Quail, Bacon-Wrapped Pork Tenderloin, and Beef Cheek Bourguignon, it's easy to see why this French-inspired restaurant is a Portland resident favorite. Whether you partake in the seven-course tasting menu or order a la carte off the menu, you'll leave feeling fulfilled and satisfied after enjoying the decadent, locally-sourced dishes.
Peruvian cuisine at its finest, Andina offers a coveted dining experience in the heart of the Pearl District. You can take a seat in the formal dining room for special occasions or opt for the more casual bar that treats diners to live Latin music every night. With traditional dishes like Arroz con Pato, Hongs Saltados, and a special tapas menu for vegans and vegetarians, Andina is ideal for anyone in the market for an extraordinary meal.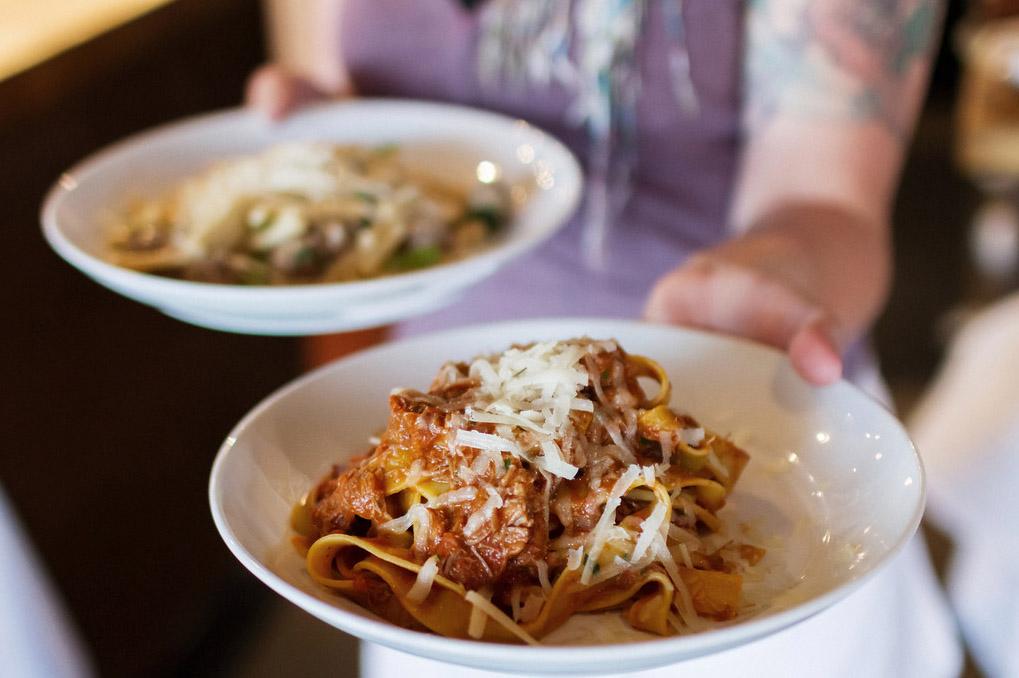 Featuring local, organic, seasonal, and sustainable Italian fare, Clarklewis checks off all the farm-to-table boxes and then some. With its menu changing daily depending on the seasonal availability of fresh ingredients, you can't go wrong with anything you order. Enjoy the chef's family-style four-course tasting menu or order a la carte from dishes such as Durham Ranch Quail, Red Beet Spaghetti, and Farm Smoked Potatoes.
The double-duty staff at Park Kitchen are trained as both servers and cooks, so they're highly invested in your dining experience from start to finish. The restaurant's seasonal menu of organic ingredients and fresh produce boasts items like Grilled Pork Terrine Sliders, Beet Chicharrones, and Goat Cheese Panna Cotta.
Chef John Gorham, who is also the owner, serves up an ever-changing menu of seasonal, locally-sourced dishes. And while dinner here is amazing, Tasty n Sons is best known for their brunch menu, which features innovative items like Chocolate Potato Doughnuts, Maple Bacon Wrapped Dates, and Moroccan Chicken Hash.
Radar is owned by husband and wife duo, Chef Jonathan Berube and Lily Tollefsen, who are committed to responsibly-sourced ingredients to make their Mid-Atlantic and American bistro cuisine. Their equally unique and approachable menu features dishes such as Ricotta Gnocchi, Steak Frites, and Banana Splits, all of which can be washed down by one (or several) of Radar's innovative cocktails.
If you're on the hunt for elegant American cuisine, look no further than Irving St. Kitchen. Chef Sarah Schafer and her experienced team create delicious dishes with house-made ingredients that are sustainably- and locally-sourced. With entrees like Chorizo and Squid Ink Risotto, Smoke Salt Baked Salmon, and ISK Buttermilk Fried Chicken, you can't go wrong with anything you order here.
Looking for more local lowdown? Check out our Nook Neighborhoods series to discover more neighborhoods + places with rich history, architecture, culture, and cuisine.
Leave a Comment