The Life, Work, and Architecture of Design Duo, Ray and Charles Eames
Written by Kelly Weimert on Friday, August 3rd, 2018 at 8:23am.
Image source: hermanmiller.hk | Buy this chair
Even if you're not familiar with the names Charles and Ray Eames, you're almost certainly familiar with their work. This husband-and-wife design duo made truly iconic contributions to furniture design and architecture, including the ever-popular Eames Lounge Chair, which is among the most famous of their designs.
Charles Eames was born in St. Louis, Missouri in 1907, where he attended school at Washington University and developed a keen interest in architecture and engineering. For several years, Charles worked in an architectural office and opened his own office several years later. Eventually, his interests extended beyond architecture and he attended Cranbrook Academy of Art on a fellowship to study other areas of design. He later became the head of the design department at the school.
Charles' wife, Ray Kaiser Eames, was born in Sacramento, California in 1912 but eventually moved to New York to study the visual arts, particularly painting, with Hans Hofman. From there, she attended Cranbrook Academy, where she met Charles and assisted him and his partner, Eero Saarinen, in design preparation for the Museum of Modern Art's Organic Furniture Competition. The molded plywood designs from Charles and Eero won them the two first prizes.
The Design Duo Takes Off
Charles and Ray eventually married in 1941 and moved to California to continue their design work as a team. The duo experimented with using plywood in new and creative ways, seeking to design strong, flexible furniture that can take on many different shapes and forms.
The United States Navy saw promise in the Eames' innovative plywood designs and commissioned the duo during World War II to create molded plywood stretchers, splints, and experimental glider shells. Shortly thereafter, in 1946, Evans Products started producing the Eames' molded plywood furniture for the masses. Architectural critic for Time magazine, Esther McCoy, called their classic, plywood "Lounge Chair Wood" - or the LCW - "the chair of the century."
Image source: dwr.com | Buy this chair
The partnership with Evans Products didn't last very long, though, as the production of Eames' furniture was soon taken over by Herman Miller, Inc., which continues to produce the furniture in the U.S. today.
Notable Work
Equal parts playful, functional, simple, and modern, the Eames' designs are highly distinctive. And while a thesis could be written about all of their notable contributions, there are a couple designs that stand out from the pack.
Eames Lounge Chair & Ottoman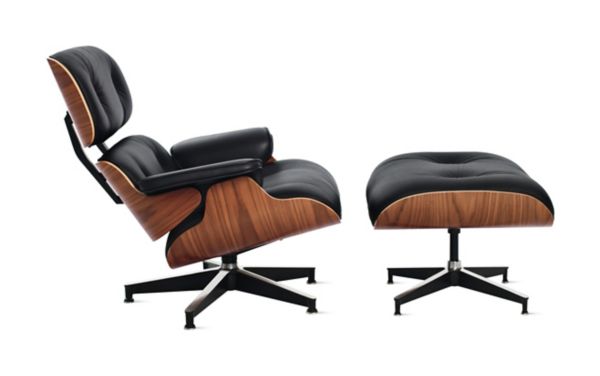 Image source: dwr.com | Buy this chair
This world-renowned lounge chair & ottoman now has a permanent place in the Museum of Modern Art in New York. Featuring a combination of molded plywood and leather, this now-classic chair was released in 1956 after years of development and was the first chair the Eames' designed for the high-end market.
Case Study House No. 8
Image source: wikipedia.org
Charles and Ray designed and constructed their own house in the Pacific Palisades for a project by California Arts and Architecture magazine, entitled The Case Study Houses, in 1951. In response to the shortage of building materials during that time, the duo used an abundance of industrial materials, including commercial doors, factory sash windows, and corrugated steel roofing. The couple spent their lifetime in the house.
DSR Chair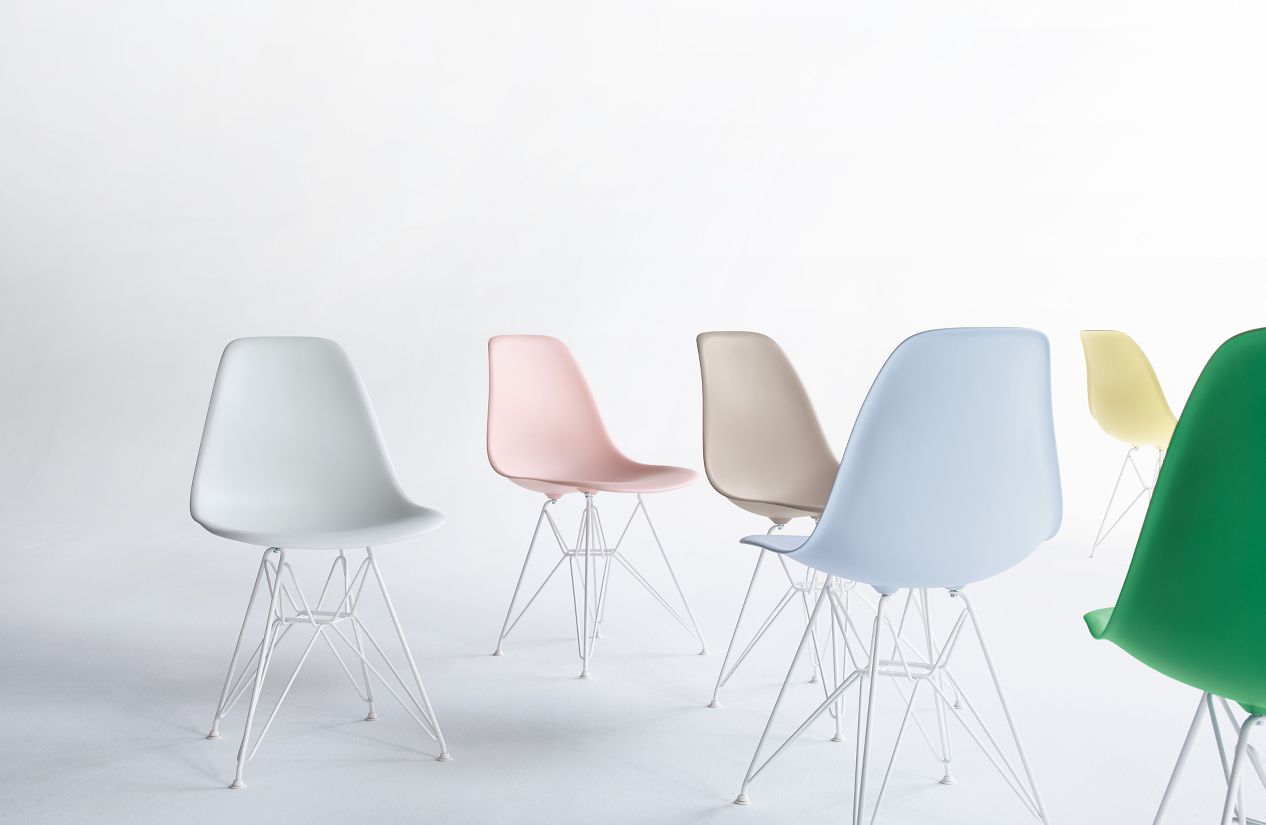 Image source: dwr.com | Buy this chair
You've almost certainly seen variations of this ubiquitous chair before. The DSR chair - which stands for Dining (height), Side (chair), Rod (base) - was part of a series of chairs that all had the same seat shell, and the chair's distinctive chrome base gave it the nickname, Eiffel. Constructed from wood and fiberglass, this chair is still popular in homes and businesses today.
Fun Facts
Charles Eames was kicked out of Washington University for being a staunch advocate of Frank Lloyd Wright.
For many years, the Eames' designs were only attributed to Charles when, in fact, both Charles and Ray worked together on nearly all of them.
In addition to working in architecture and furniture design, the design duo were also toy inventors, filmmakers, and graphic designers.
Ray used her graphic design skills to create several textile designs, employing repetitions of abstract, geometric forms reminiscent of her and Charles' modern furniture designs.
"The details are not the details. They make the design." – Charles Eames
Image source: eamesoffice.com
Leave a Comment