The Dynamic and Dimensional Interiors of Designer Jamie Bush
Written by Kelly Weimert on Friday, January 25th, 2019 at 3:07am.
Source: jamiebush.com
Jamie Bush grew up in Long Island, New York, in what he describes as "an eclectic family of dairy farmers." His close proximity to Manhattan introduced him to the work of influential designers, photographers, and artists, inspiring him to pursue art and architecture. Bush went studied design in Venice, Italy and New Orleans, ultimately obtaining a master's in architecture from Tulane University. Upon graduation, Bush ventured west to Los Angeles, where he worked at Marmol Radziner and Kelly Wearstler before founding his own interior architecture and design firm in 2002.
Bush has collaborated with many prominent architects, including Steven Ehrlich, David Hertz, and Barbara Bestor, which makes sense considering his keen ability to blur the line between architecture and interior design. In addition to establishing fluidity between architecture and design, Bush's aesthetic incorporates beautifully imperfect natural materials and fine craftsmanship, giving his spaces a polished but not overdone appearance. To that end, Bush also typically mixes old and new elements, such as vintage decor and contemporary artwork, to create multi-dimensional spaces.
To demonstrate why so many elite clientele flock to Bush to design their most intimate spaces, we highlight a few of our favorite Bush-designed interiors below.
Our Favorite Designs by Jamie Bush

Source: wallpaper.com
Bush merged a minimal, contemporary aesthetic with retro silhouettes to create this inspired office space.

Source: dezeen.com
This artful corner demonstrates Bush's knack for mixing different textures and shapes to create equally compelling and dynamic designs.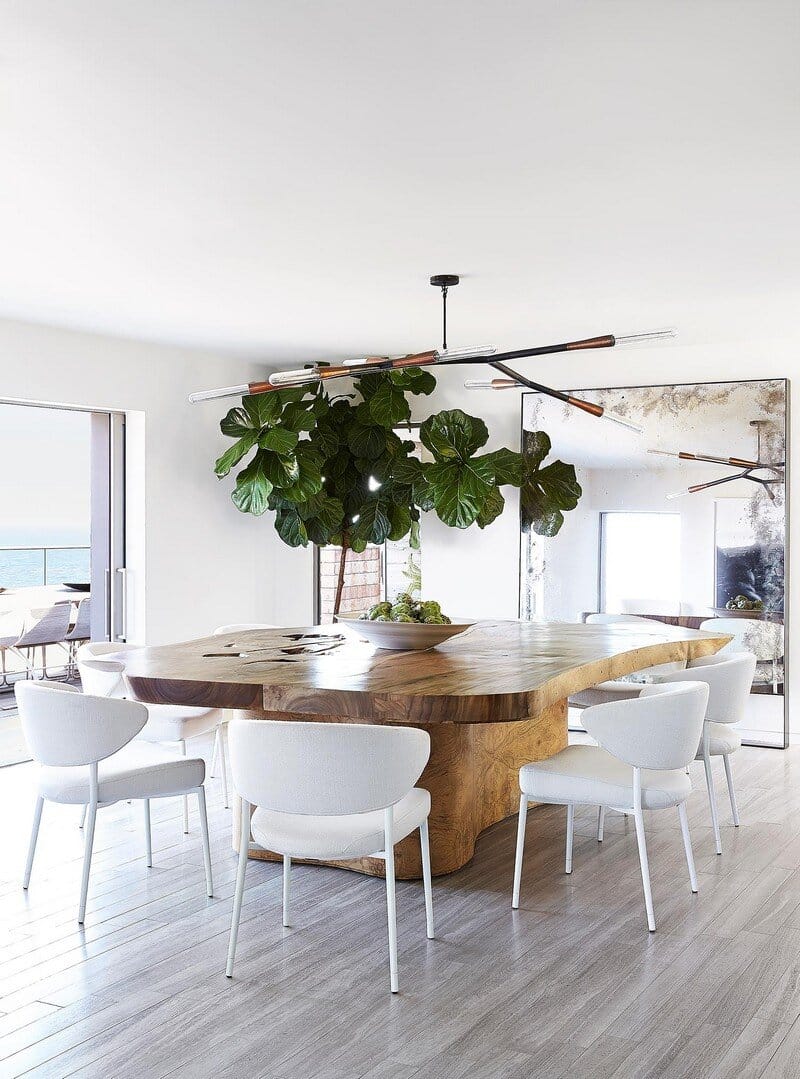 Source: homeworlddesign.com
Bush showcases his love of organic, perfectly imperfect materials in this breezy dining room design.

Source: wallpaper.com
Here, Bush combines fluid shapes with stark contrasts to create a multi-dimensional living area.

Source: jamiebush.com
Bush's characteristic use of color and texture in this stunning outdoor space beautifully blends it with its surroundings.
Fun Facts About Jamie Bush
When Bush isn't in LA, he's living on a houseboat near his family in Long Island.
In addition to interiors, Bush designs custom furniture.
Bush's work has been featured in over 70 publications worldwide.
Follow Jamie on Instagram @JamieBushCo to see more of his inspiring spaces in your feed. And be sure to check out more of our featured tastemakers here.
View this post on Instagram
Leave a Comment