The Best Online Workout Classes to Take During Quarantine
Written by Kelly Weimert on Tuesday, April 7th, 2020 at 11:05am.
Source: shopify.com
If you're like many of us who are at least a week or two into quarantine, then chances are you're starting to feel more than a little restless. The first few days of staying at home can be great as we spend more time with family and finally get to those shows we've been meaning to watch. But as the days go on, it feels increasingly tough to find energy and motivation, which is why exercise during this time is more important than ever.
Whether you're a seasoned gym rat or you haven't exercised since the '90s, finding ways to move your body at home can work wonders for physical and mental health. Studies suggest that exercise can do everything from improving your memory, focus, and energy to reducing symptoms of depression and anxiety. Working out can also help you sleep better and, of course, make your body stronger and healthier.
But don't think you need an at-home gym to reap all of exercise's benefits while quarantined. Thanks to the internet, all you need are a few feet of free space to get in a killer workout without ever leaving your house.
Below, we highlight some of the best online workouts for every type of exerciser. Some of the workouts you can watch on demand, while others you can livestream in real-time.
CorePower Yoga closed all of its studios due to COVID-19, but now the beloved yoga company is offering more than 250 classes online for a monthly $19.99 fee—about the cost of a single yoga class. You can sort the classes by length, teacher, difficulty, and type, making it easy to find the right option for your needs. Plus, you can join a number of different challenges to help you stay motivated and accountable, such as the 7-Day Sculpt Challenge and the 14-Day Core Challenge.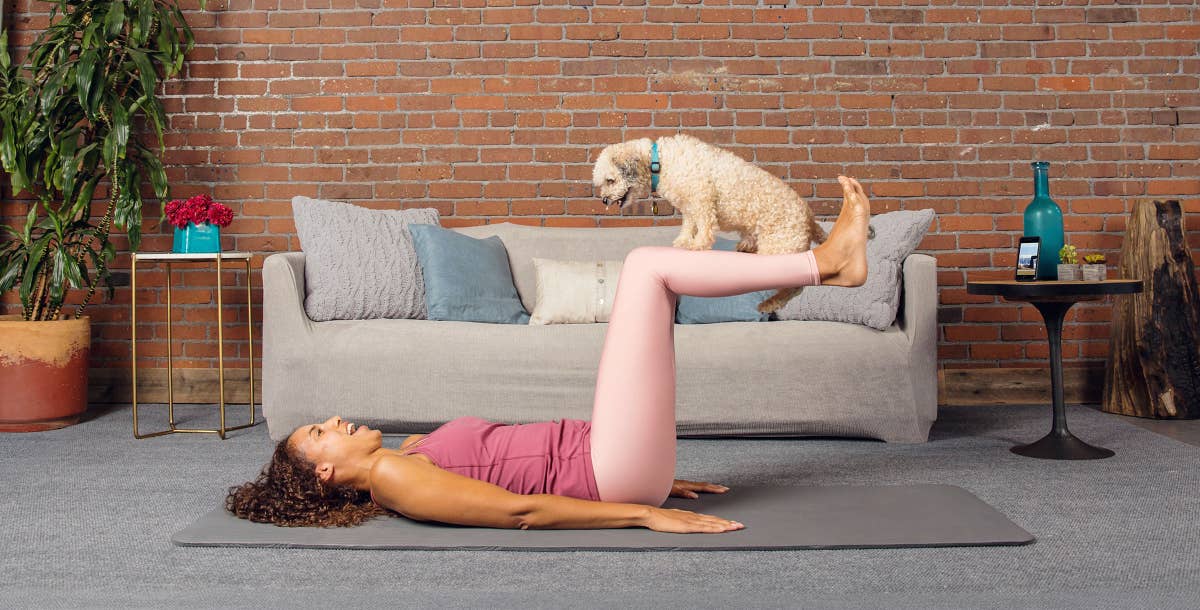 PilatesAnytime offers more than 3,400(!) streaming pilates videos that you can do in the comfort of your home. Some of the videos require small props, like resistance bands, while others only require your body and a mat. And if you have a tower or reformer at home, there are classes designed for those as well. The website makes it a cinch to search for classes based on equipment, focus, and skill level and offers a 14-day free trial so you can ensure it's the right fit for you.
For those that are serious about their gains, WORK Training Studio offers online training plans that target different muscle groups during each day of the week. You can choose one-off plans for $29.99 per month or a recurring plan at $19.99 per month. The program features two different plans: one for those with just a few pieces of equipment, like basic dumbbells and resistance bands, and one for folks with access to a full range of gym equipment.
If you're looking for an all-in-one online workout subscription, then you can't go wrong with this option. After downloading the app, you can access hundreds of workouts from some of the world's leading trainers that span from yoga and pilates to strength training and HIIT. The app also adds new workouts every month, so it's impossible to get bored. You can try it out free for 14 days, and after that, it's just $9 per month.
Another all-in-one option, Daily Burn offers online group workouts and one-on-one training for every type of person. You can choose from thousands of class options depending on your mood and needs, like cardio kickboxing, muscle building, barre, yoga, and HIIT. There are even pregnancy and post-natal classes for new mommas. And the best part is that you can try it all out completely free for 60 days. After that, it's just $15 per month for a basic subscription.
Check out more from Noted. by Nook and be sure to follow us on Instagram @nookrealestate.
Leave a Comment