The Best Farmers' Markets To Check Out This Spring
Written by Kelly Weimert on Wednesday, April 3rd, 2019 at 9:16am.
There might be no better way to celebrate the coming of spring than by spending some time perusing a local farmers' market. In addition to all kinds of seasonal produce, tasty snacks, and artisan creations, many farmers' markets offer live music and other forms of entertainment, making them an ideal way to spend a spring afternoon.
If you're looking for fresh ingredients, artisan goods, and fun experiences, the following farmers' markets are among the very best from San Francisco to Miami.
Miami
Located in a 100,000-square-foot building that hosts over 300 local vendors, the Yellow Green Farmers' Market in Miami is a one-stop-shop for all things fresh and delicious. In addition to offering seasonal produce and fresh fish and poultry, the market sells potted plants, handmade clothing, artisan jewelry, and a bevy of other unique goodies. Just be sure to head there during the weekend—the market is only open on Saturdays and Sundays from 8 am to 4 pm.
Los Angeles
With so many farmers' markets in Los Angeles, it's easy to overlook the small yet vibrant Atwater Village Farmers' Market. Open on Sundays from 10 am to 2 pm, the market offers everything from fresh poultry to vegan cheeses from some of Southern California's highest-quality local farms. But where this little market really shines is through the various prepared cuisine it offers, including fresh Korean food from Dave's Gourmet Korean and delicious Mediterranean fare from Rita's Roman Recipes.
Palm Beach
Don't let its relatively small size fool you—Jupiter Farmers' Market in Palm Beach is overflowing with unique goodies. You can purchase locally-grown produce, fresh flowers, and artisan baked goods in addition to handmade crafts, like wind chimes, dolls, and handwoven bags. And given that this market basically has a dog as an assistant manager, it also happens to be the perfect place to bring your pup. Open from 9 to 1:30 pm on Sundays, it's a great way to spend a Sunday morning.
Long Beach
With abundant craft food producers and certified farmers, the Marina Farmers' Market in Long Beach boasts everything you could want in a farmers' market. You can peruse fresh produce from farms such as the Fruit Fairy Farm, Beyond Bok Choy Farm, and Bolanos Family Sprouts. And once you've picked up the seasonal ingredients you're craving, you can grab a tasty snack from one of the dozens of local food vendors, like Black Home BBQ, Me Gusta Gourmet Tamales, and Devi's Donuts. The market is open every Sunday from 9 am to 2 pm.
San Diego
This five-block market in San Diego will greet you with an ocean view and over 200 vendors. Open every Saturday from 8 am to 2 pm, Little Italy Mercato offers a killer selection of farm fresh produce, pastured eggs and poultry, and local artisan food. There are also abundant botanicals, including potted plants, fresh flowers, and bedding plants. Peruse the goods to the tune of live music and sit down to a tasty prepared meal of crepes, paninis, and other local chefs' specialties.
San Francisco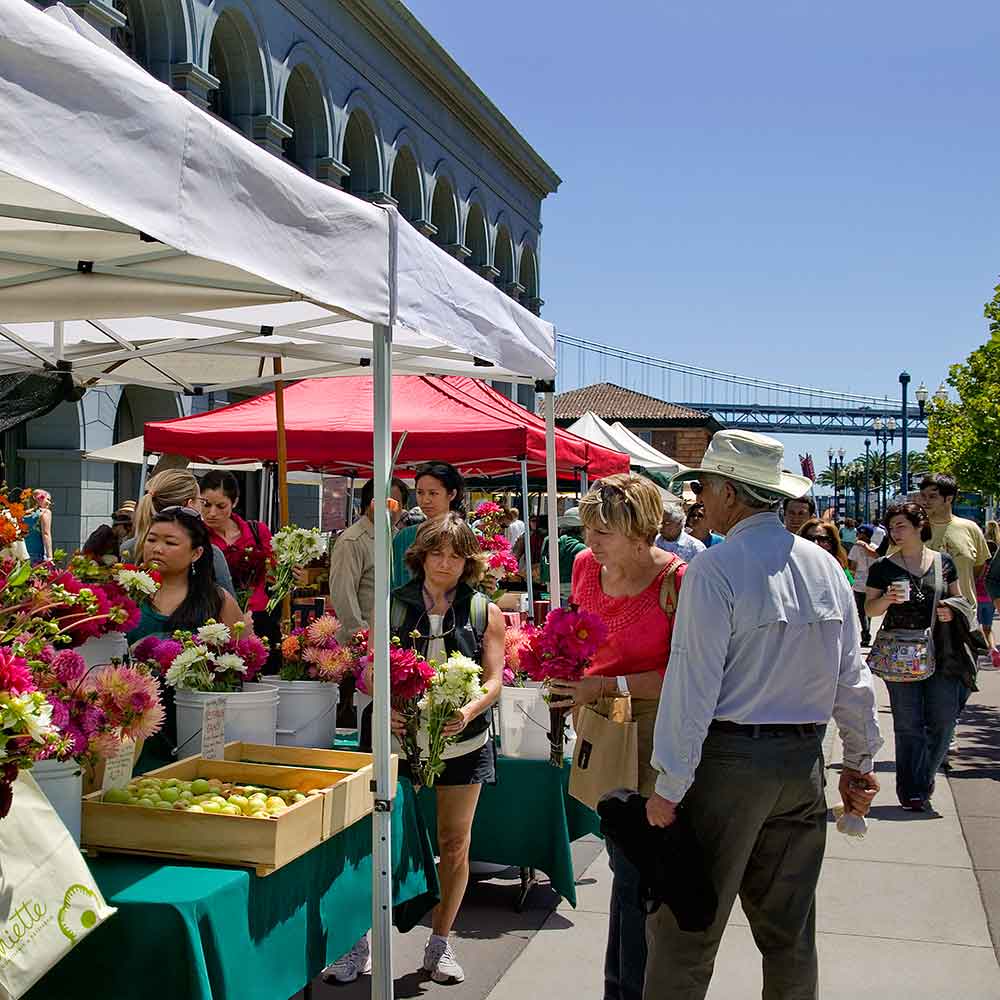 There's no shortage of farmers' markets in the Bay Area, but Ferry Plaza Farmers' Market is most definitely among the best. The market is open three days a week on Tuesdays, Thursdays, and Saturdays, with Saturdays typically offering the most options. In addition to farm fresh produce, artisan goods, and prepared foods, the market also provides free cooking demonstrations, seasonal celebrations, and educational programming on sustainable food systems.
Orange County
Uniquely open on Tuesday evenings from 5 pm to 9 pm, Surf City Nights is Orange County's largest weekly street fair and farmers' market. Located in Huntington Beach, this market offers all of the farmers' market staples, like seasonal produce, fresh flowers, and artisan goods, as well as hours of lively entertainment. Your little ones can jump around in bouncy houses and ride ponies while you listen to live music, eat a tasty meal, or watch a performance, such as the local talent competition, Surf City's Got Talent.
Palm Springs
Open every Saturday and Sunday from 7 am to 2 pm in the fall and 7 am to noon in the summer, the Street Fair at College of the Desert is more than an amazing farmers' market. In addition to seasonal ingredients from local farmers, the shaded, open-air market sells home furnishings and decor, leather goods, apparel, jewelry, and a whole lot more. It also offers gourmet food and live entertainment, so it's easy to get happily lost in this Palm Springs gem for hours.
From Miami to San Francisco, we've got you covered with our curated collection of things to do, cities to see, and places to go. Head over to our Local section to find more.
Leave a Comment