On Scene: Black Rock City's Burning Man
Written by Kelly Weimert on Wednesday, August 21st, 2019 at 11:05am.
Source: @burningman
This Sunday, August 25th, one of the most prominent, unique, and talked about annual events in the country, Burning Man, will take place for the 33rd time. If you've never been there, it can be tough to wrap your mind around what, exactly, the event is; in fact, many people who have been there will say the same. That's because Burning Man is sort of its own living organism, evolving and shifting each year depending on who attends and what they contribute. But there are a few common themes and activities that you'll find no matter what year you attend.
The event takes place each year in Black Rock City, a temporary city in the Black Rock Desert of Nevada that's erected solely to serve the event. The Burning Man mission includes generating "society that connects each individual to his or her creative powers, to participation in the community, to the larger realm of civic life, and to the even greater world of nature that exists beyond society." The event is based on 10 main principles, which heavily inform its culture and happenings: radical inclusion, radical self-reliance, radical self-expression, communal effort, civic responsibility, gifting, decommodification, participation, immediacy, and leave no trace.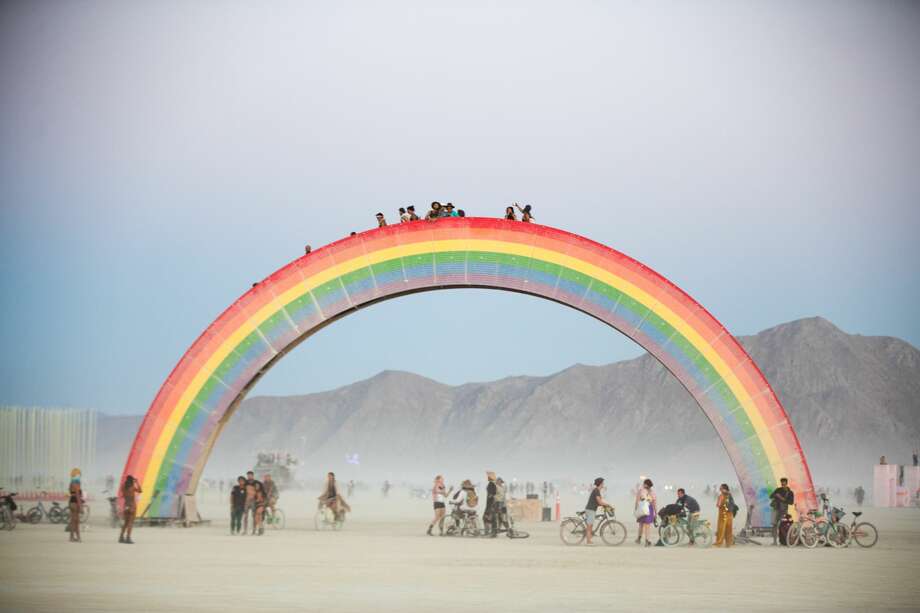 Source: sfgate.com
In other words, Burning Man is essentially the convergence of art and community, encouraging people to harness and share their creative powers and cultivate ethical community practices. Rather than cash exchanges, Burning Man participants are encouraged to trade for various goods and services as well as give their talents and creativity unconditionally, without the expectation of receiving something in return.
The result of this principle-informed community is a desert city full of creative wonders and curiosities, including small- and large-scale interactive art installations. You'll find everything from music and performance theater to sculptures with kinetic, electronic, and fire elements to aerialists and fire dancers. There are also abundant costumes; sex-positive events; and hundreds of community members serving food, drinks, and drugs to fellow attendees. And that's really just the tip of the iceberg. The event appropriately culminates with a literal burn during which a large wooden effigy AKA The Man is burned to the ground in a massive (but contained) evening fire that people cheer, sing, and dance around.

Source: hollywoodreporter.com
The uniquely collaborative and creative community that Burning Man cultivates has drawn increasing numbers of people to the event, with 2017's event seeing 70,000 attendees compared to the 47,000 people that attended 10 years prior. You might think that these thousands of people can wreak some serious havoc on the desert land, but Burning Man's "leave no trace" principle means that the community is committed to leaving the land even better than they found it, without a piece of trash in sight.
The event lasts for one week and each year there's a different theme. Last year's theme was "I, Robot" and the theme prior was "Radical Ritual." These themes inform a lot of the costumes, art, and activities you'll see around the city. This year's event takes place on August 25th through September 2nd, with the theme "Metamorphoses."

Source: businessinsider.com
No cars are allowed within city limits—only a select few "mutant vehicles" that must be approved by organizers—so it's best to get around by foot or bike. The temperature can also be unruly, with blazing hot afternoons and chilly nights, so layers and adequate shelter (i.e.: a solid tent) are paramount. But those are just a few of the many guidelines that should be studied up and read about before attending; event participants and organizers are extremely committed to maintaining Burning Man's unique culture and principles, so deviations from them can lead to a very bad time. Fortunately, organizers created a Burning Man Survival Guide that tells you everything you need to know to experience a successful and ethical burn.
You can also find information on tickets, camps, and pretty much everything else you need to know through the Burning Man website. And if it's your first time, you'll find the First-Timer's Guide particularly helpful.
Check out the Local section on Noted. to read more from our curated list of things to do, cities to see, and places to go.
Leave a Comment