Nook Neighborhood Spotlight: Deepwell Estates, Palm Springs
Written by Kelly Weimert on Wednesday, October 3rd, 2018 at 12:11pm.
Image source: palmspringslife.com
Deepwell: A Brief History
Among the oldest neighborhoods in Palm Springs, Deepwell was founded in the 1920s and received its name from the endeavors of scientist Henry Pearson. Pearson purchased an apricot ranch in 1926 and drilled himself a well on the property that descended more than 600 feet, hence the name, Deepwell.
In 1928, Charlie Doyle bought Pearson's property and converted it into the Deepwell Guest Ranch, which featured accommodations for 22 guests and informed much of Deepwell's present day activities, such as horseback riding. Fast forward to 1952 and the luxurious ranching retreat became part of a subdivision comprised of 369 homes, including 19 Biltmore residences, and was dubbed the Deepwell Colony Estates.
Since its inception, Deepwell has drawn a number of celebrities who called it home (or, second home), including Elizabeth Taylor, Jerry Lewis, and Loretta Young. And a walk around the neighborhood makes it easy to see why so many celebs fell in love with it. Deepwell is the kind of neighborhood that makes you feel safe and secure. Its residents are incredibly active, taking advantage of the majestic mountain views and quiet roads through frequent jogging, dog-walking, and romantic strolling.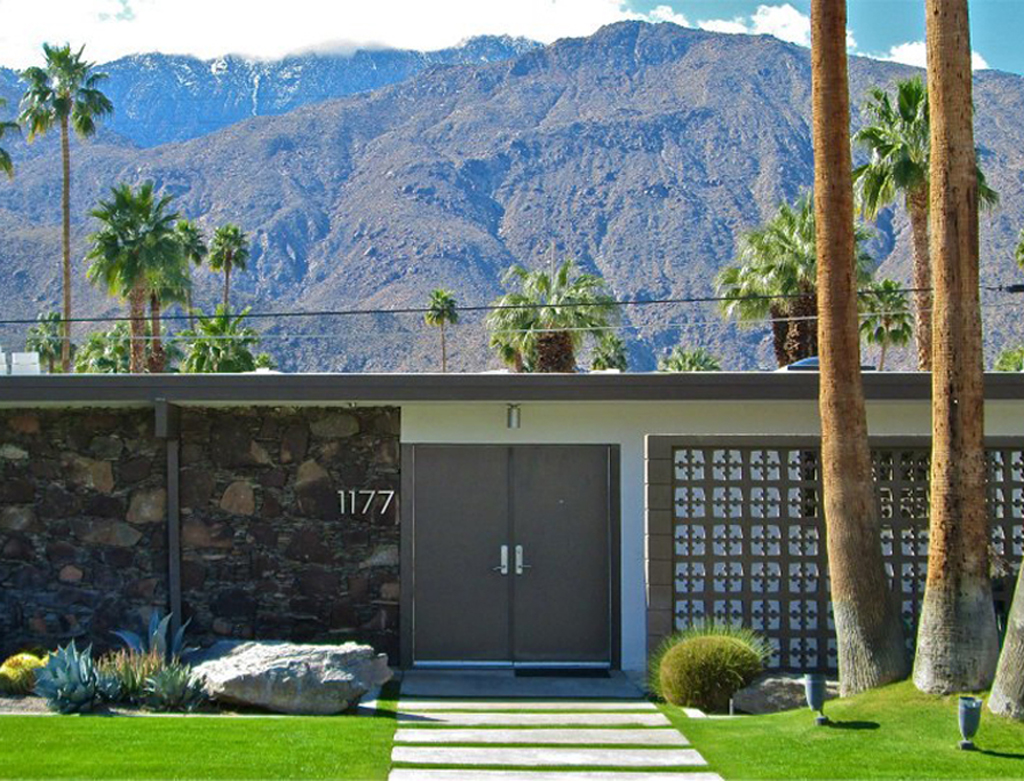 Image source: modtraveler.net
All of that outdoor activity lends itself to the uniquely communal feel of this neighborhood. Residents here make a point of knowing their neighbors, engaging in frequent neighborhood social events and activities, such as playing tennis, horseback riding, and golfing.
Deepwell Architecture & Homes for Sale
In addition to a picturesque setting and thriving community, Deepwell is home to some of the finest Mid-Century Modern architecture to be found. Many big-name architects designed homes in the neighborhood, including Donald Wexler, Hugh Kaptur, and E. Stewart Williams. These and other architects' designs set a high bar that continues to be met today, largely thanks to the Deepwell Architectural Committee setting a general standard for the aesthetics of the community.
No matter where you stand in Deepwell, you're surrounded by gorgeous modernist gems, complete with characteristic low-slung roofs, unforgettable desert landscaping, and meticulously manicured lawns. To give you an idea of just how beautiful these homes are, we've included a few of our favorites below. And, if you like what you see, we suggest you check out all the homes currently for sale in Deepwell.
Image source: modernismweekly.com
Image source: townsocal.com
Image source: winetastetravel.com
Image source: medium.com/@erinmitchell
Image source: desertluxuryproperties.com
Image source: orbitz.com
Interested in purchasing property in this unique Palm Springs neighborhood? Then check out current homes for sale in Deepwell Estates to find your Deepwell dream home.
Leave a Comment