Where Nature Meets Architecture: Sonoma's Sea Ranch Community
Written by Kelly Weimert on Wednesday, August 15th, 2018 at 4:05am.
Featured Sea Ranch Home for Sale: Condominium One | Image source: sonomamag.com
With fewer than 900 permanent residents, Sea Ranch is a quaint, idyllic, and unincorporated planned community that's only about 50 years old. Its exceedingly peaceful and quiet vibe, complete with expansive oceanic views, lush trees, and craggy cliffs, is the perfect locale for a vacation retreat or a retirement home.
Sea Ranch Architecture & Development

Image source: nytimes.com
Sea Ranch was founded by Oceanic Properties with Bay Area landscape architect, Lawrence Halprin, being largely responsible for the highly-curated yet calm feel of the community. Halprin, along with four other architects, set the parameters for all of Sea Ranch's homes' exteriors, starting with the rich redwood that each home is constructed from.
When you first set foot in the community, you're immediately struck by how well the architecture fits into the surrounding scenery. Unlike other homes built in the 50s and 60s, which often looked like clones of one another, the homes in Sea Ranch are uniquely constructed with timber frame designs that appear as though they sprouted up from the landscape centuries ago while maintaining an equally fresh and timeless aesthetic. Neutrally-finished wood and exterior lighting baffles help the architecture blend with its surroundings as functional elements, like single-pitch shed roofs that protect the homes from high winds, ensure the homes are fit to endure their environment.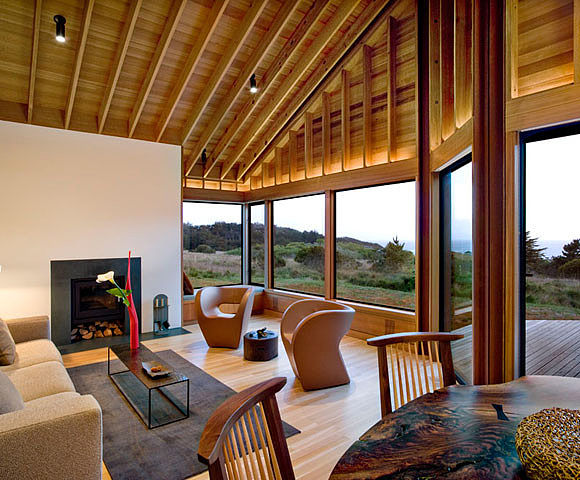 Image source: homeadore.com
Inside, the homes in Sea Ranch are just as striking, featuring open floor plans that maximize ocean views and the calm, expansive feeling of the locale. But, of course, it's tough to have a picture-perfect community without some rules. For instance, residents are discouraged from having curtains that are anything but neutral and subdued, and some have been cited by the Sea Ranch Design Committee for hanging their laundry outside, considering it an eyesore. Moreover, lawns are forbidden and gardens kept minimal and native to preserve the natural, cohesive feeling of the community.
Despite the regulations, people flock to this community when they're craving peace and tranquility, and that's exactly what they get. Light pollution is nearly nonexistent as streetlights aren't allowed and exterior lights are baffled, making for unforgettable stargazing. Meanwhile, you'll find nary a mailbox to remind you of life's struggles and cars are parked in hidden, private areas, largely out of sight.
How to Spend Your Time in Sea Ranch
Sea Ranch is much less about doing stuff and way more about luxuriating in the not doing of it all. In lieu of any movie theaters, galleries, or shops, you'll find sprawling landscapes that invite long walks on the beach, quiet reflection, and plenty of wildlife viewing. If you head to the tide pools behind the One Eyed Jack playground off of Leeward Spur, you're likely to find seals sunning on the beach at high tide and plenty of starfish during low tide. Bear in mind, the tide pools are tricky to find, but once you find them, you won't want to leave.

Image source: twofishbaking.com
After you spend some time relaxing in nature, you can hit up the local beloved Two Fish Baking at Stewart's Point for their Friday and Saturday pizza nights, complete with salad, beer, wine, and classic cocktails in the upstairs speakeasy. But if you really want to get the best of what this little eatery has to offer, then hit it up first thing in the morning for fresh breakfast burritos and sandwiches on housemade bread, buttery almond croissants, and freshly roasted coffee.
If you simply must add some doing to your stay, then you can check out nearby Gualala, which has an independent bookstore for your perusal, a couple supermarkets for your basic needs, and a handful of specialty shops, like Placewares, which features beautifully-curated household wares, clothing, and some gourmet food items along with a small art gallery.
All of that being said, the name of the game at Sea Ranch is rest and relaxation while taking in the magic that nature has to offer, so there's no better way to end your day than from your deck, taking in a gorgeous sunset and relishing the stunning quiet that's so hard to find in today's society.
Homes for Sale in Sea Ranch

Featured: 39085 Hedgegate Rd | Listed by Carol Kozal of The Coastal Real Estate Company - Liisberg & Kalinoski
If you're eager to secure an idyllic Sea Ranch retreat of your own, then go check out all current homes for sale in Sea Ranch.
Leave a Comment