Neighborhood Spotlight: The Historic District of Professorville, Palo Alto
Written by Kelly Weimert on Wednesday, March 13th, 2019 at 12:01pm.
Source: harker.com
Professorville in Palo Alto, California is quite literally the neighborhood that professors built. In the late 19th century, the land in what's now Professorville was divided exclusively for Stanford professors to build and own homes near the university—Stanford prohibited anything but rentals on its property. Now a registered historic district, the neighborhood is bound by Addison, Kingsley, and Lincoln Ave. with the cross streets of Bryant, Waverly, and Ramona.
Professorville has been home to many prominent intellectuals, inventors, and innovators. For example, Nobel Prize winner and co-inventor of the transistor radio, William Shockley, onced lived at 959 Waverley. And a few blocks over, on Addison Avenue, sits the garage where Dave Packard and Bill Hewlett founded a little company called Hewlett-Packard; the garage is often dubbed the "Birthplace of Silicon Valley."
In addition to its intellectual history, the neighborhood is known for its charming architecture. When you walk down the street, you'll notice an eclectic mix of architectural styles, with strong influences from Victorian, Colonial Revival, Mediterranean, and Craftsman styles. The homes range from small cottages with brown shingles and gambrel roofs to larger, more ornate constructions that portray a variety of architectural influences, and even a couple of hidden Eichlers.
The following homes are just a sample of the century-old architectural gems that live in this idyllic neighborhood.
Wing House, built in 1893

Source: pastheritage.org
The Wing House was designed by Arthur B. Clark, chairman of the Stanford Art Department, for Stanford engineering professor Charles B. Wing. With its Victorian window proportions and Colonial gambrel roof, the home combines several architectural influences to create its unique design.
356 Lincoln, built in 1896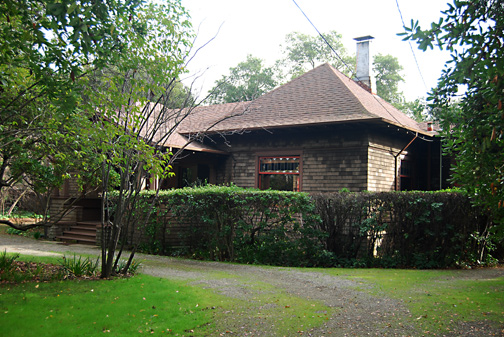 Source: pastheritage.org
Another home designed by Arthur B. Clark, this Craftsman bungalow used to belong to Stanford engineering professor Guido Marx. The home features a gabled porch and substantial eaves, protecting it from the elements, in addition to a unique pavilion massing.
Angell House, built in 1893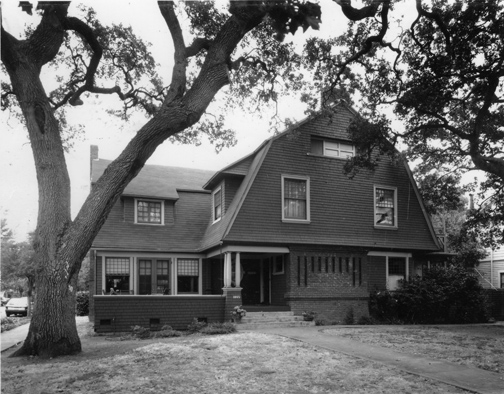 Source: pastheritage.org
This Shingle-style home was constructed for Professor Frank Angell, one of the original Stanford faculty members. Its gambrel roofs and shingled surfaces are common architectural features of the neighborhood.
The Sanford House, built in 1895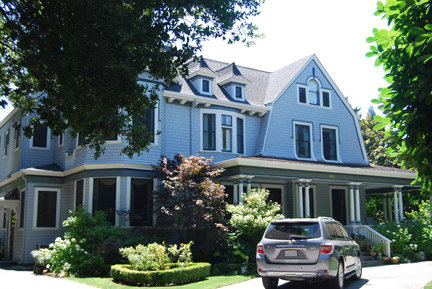 Source: pastheritage.org
One of the most prominent Professorville homes, the Sanford House belonged to famed physicist and first Stanford physics professor, Fernando Sanford. The 14-room, Queen Anne-style home was designed by Chicago architect Frank McMurray and features an elegant front Palladian window along with a four-sided tower topped by a finial.
Sunbonnet House, built in 1899

Source: pastheritage.org
Dubbed the Sunbonnet House due to its gambrel roof entry that resembles a bonnet, the home was designed by architect Bernard Maybeck for Emma Kellogg. The home was recently restored to maintain its uniquely historic charm.
Professorville Eichlers, built in 1959
Amongst the prominent Arts and Crafts architecture, Professorville is also home to two twin Eichlers, together making up the smallest known Eichler subdivision. Due to the traditional design of the surrounding 100-year old homes, these Eichlers were built to blend in and are often not recognized as Eichlers from the outside with their stucco, red brick, wooden shake roofs, and two stories. In fact, more often than not the Professorville Eichlers are taken for Cliff May ranch-style homes. But upon entering, the true Eichler design quickly comes to life.

Source: eichlernetwork.com
Interested in renting or purchasing a home in this charming Palo Alto Historic District? Check out all active homes for sale and for rent in Professorville.
Leave a Comment