Neighborhood Spotlight: Mid-Century Modern Twin Palms
Written by Kelly Weimert on Friday, December 6th, 2019 at 10:05am.
Source: modtraveler.net
Located in Palm Springs, Twin Palms is a charming neighborhood that's largely responsible for the desert town's reputation for being a hub of mid-century modern design. The neighborhood is the area's first modernist tract, thanks to architect William Krisel who designed 90 residences for the land between 1956-1959.
Twin Palms gets its name from the pair of palm trees that were added to all of the residences' front laws, but the immediate visual similarities end there. Despite the tract housing, which all shared virtually the same floor plan, Krisel's artful design choices resulted in each of the houses appearing as custom-built properties. He used various orientations, embellishments, and setbacks to give every home a unique flair.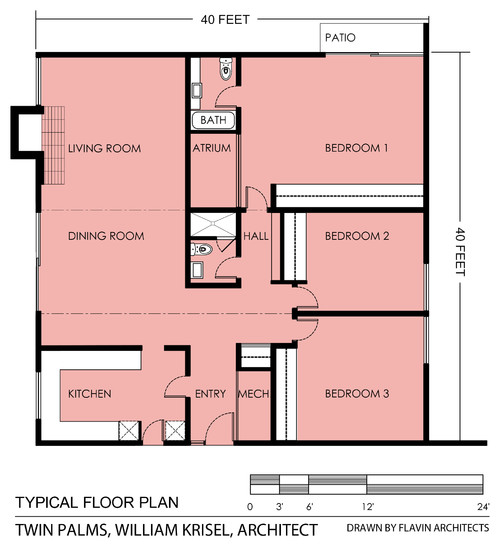 Source: houzz.com
The homes feature all of the design elements you'd expect from modernist housing, including post-and-beam construction, butterfly roofs, clerestory windows, and sliding glass doors that connect the structures with the surrounding mountainous landscape. And, in addition to being an architect, Krisel was an artist and engineer, using his talents to create interior elements that further customize the homes, like built-in furniture, cupboard-door pulls, and light fixtures.

Source: dwell.com
The tract was designed for middle-income buyers and became an instant success—families quickly filled each home, creating a community that would help shape Palm Springs' longstanding reputation as a mecca of mid-century design.
However, as the decades wore on and other architectural styles came into popularity, a number of the original homes were bulldozed and replaced with more contemporary housing. Fortunately, modernist design's resurgence in the '90s has led to the restoration and preservation of many of the houses, resulting in a neighborhood that offers a compelling mix of contemporary and mid-century homes, many of which are valued close to $1 million.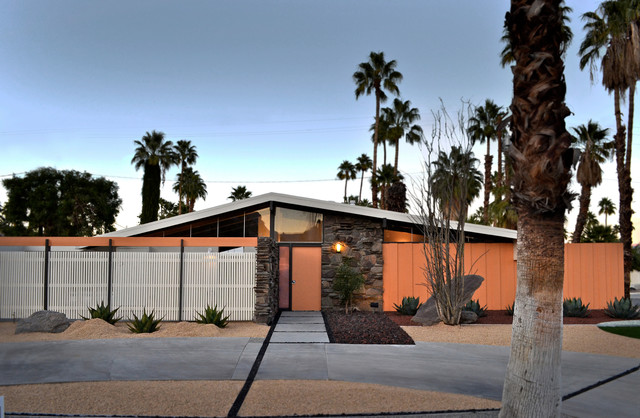 Source: houzz.com
In addition to Krisel-designed residences, the neighborhood is also home to an iconic house of Frank Sinatra's, designed by E. Stewart Williams in 1947. The home was Williams' first commission, with Sinatra initially requesting a Georgian design before Williams presented him with a single-story modern house that Sinatra ultimately fell in love with.

Source: modernismweek.com
In 2013, the Twin Palms Neighborhood Organization was established to honor the heritage and architectural history of Twin Palms. And, in 2014, the organization began hosting tours of many of the original homes through Modernism Week, allowing anyone to walk through and experience the unique charm of the original properties.
Love the idea of living in this historic mid-century modern neighborhood? Check out all homes for sale in Twin Palms, Palm Springs.
Leave a Comment