Neighborhood Spotlight: Joshua Tree - A Unique Desert Community
Written by Kelly Weimert on Wednesday, September 4th, 2019 at 11:05am.
Source: visitgreaterpalmsprings.com
Nestled in the foothills of the Mojave Desert, Joshua Tree is a census-designated place in San Bernardino County. With just around 8,000 permanent residents, the Joshua Tree community is small but mighty, and surrounded by some of the most beautiful scenery this country has to offer.
The high-desert area is best-known for Joshua Tree National Park, but it also offers plenty of lesser-known gems for art, design, and architecture enthusiasts, largely thanks to the artists, thinkers, and makers who flock to the region for the inspiration offered by its unique landscape.

Source: dwell.com
For instance, the High Desert House, designed by Kendrick Bangs Kellogg, belonged to artists Jay and Bev Doolittle who requested that Kellogg create a house for them in "a very interesting, though unconventional, building site in the California desert…". The result is a masterful piece of architecture that sweeps across rocky terrain almost invisibly due to Kellogg's innovative design that honors the surrounding landscape.

Source: almanacofstyle.com
Joshua Tree is also home to The Wagon Station by artist Andrea Zittel. Zittel focuses her art on creating a sustainable and self-sufficient life, and The Wagon Station perfectly exemplifies that. Comprised of several tiny living pods, Zittel created the encampment as an artist residency, where artists can stay for free and work on their art during the cooler months of the year.

Source: almanacofstyle.com
If you head to 63030 Blair Lane, you'll run into an outdoor sculpture park just a few miles from Joshua Tree National Park. The park was designed and created by Noah Purifoy and features more than 100 sculptures, often made from found items AKA "desert junk" on 10 acres of desert land. The park is so compelling that it was transported to LACMA so that more people could behold the sculptural gems it houses.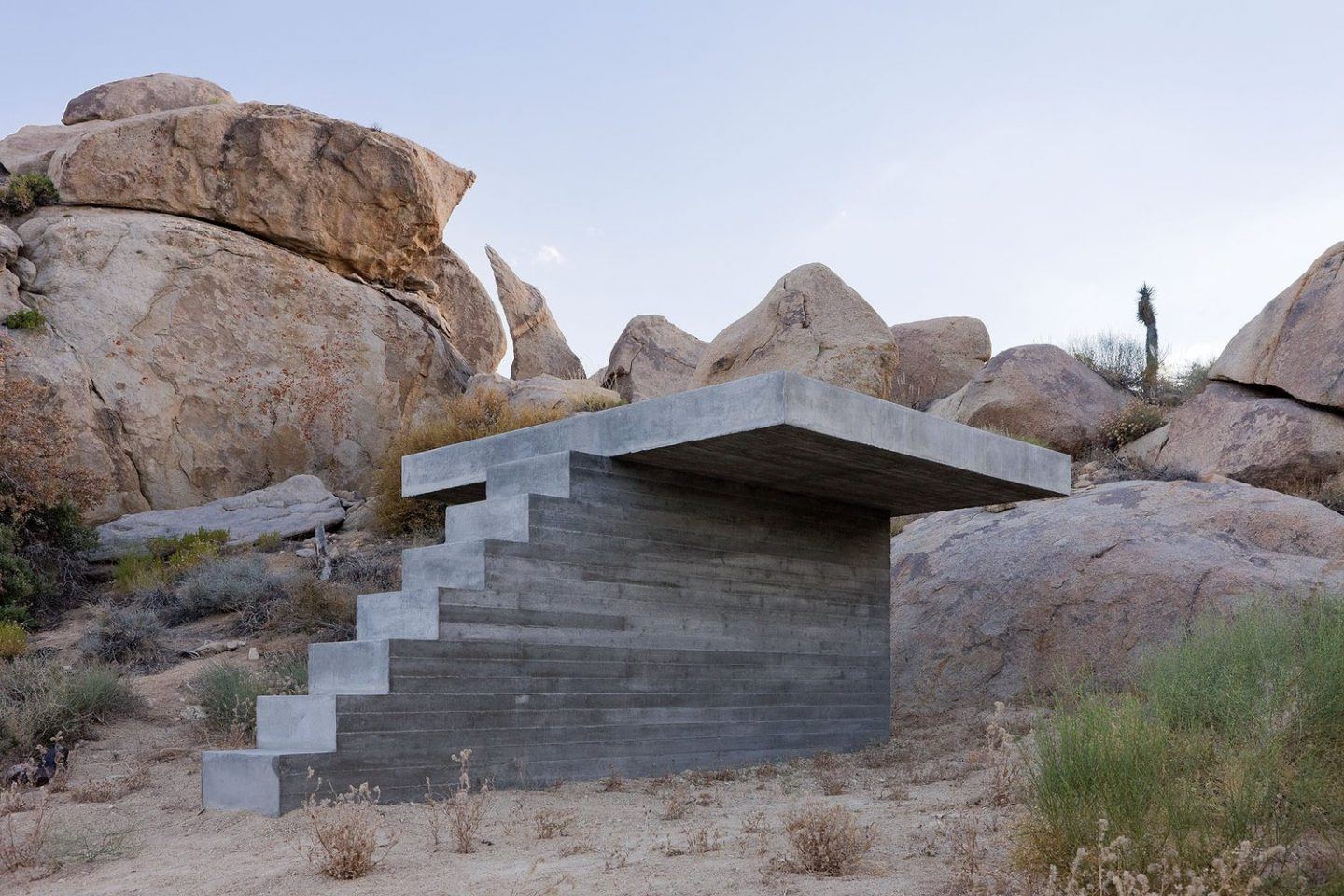 Source: ignant.com
Another installation just a few miles outside of Joshua Tree National Park, Seasonal Pavilions was designed by Japanese architect Arata Isozaki for LA art collector Jerry Sohn. Isozaki created the three pavilions to be bedrooms after he slept at the site under the stars seeking inspiration, noting that "The ceiling is the sky, the surrounding mountain range and rocks are the wall and partitions, and the majority of the floor is the desert."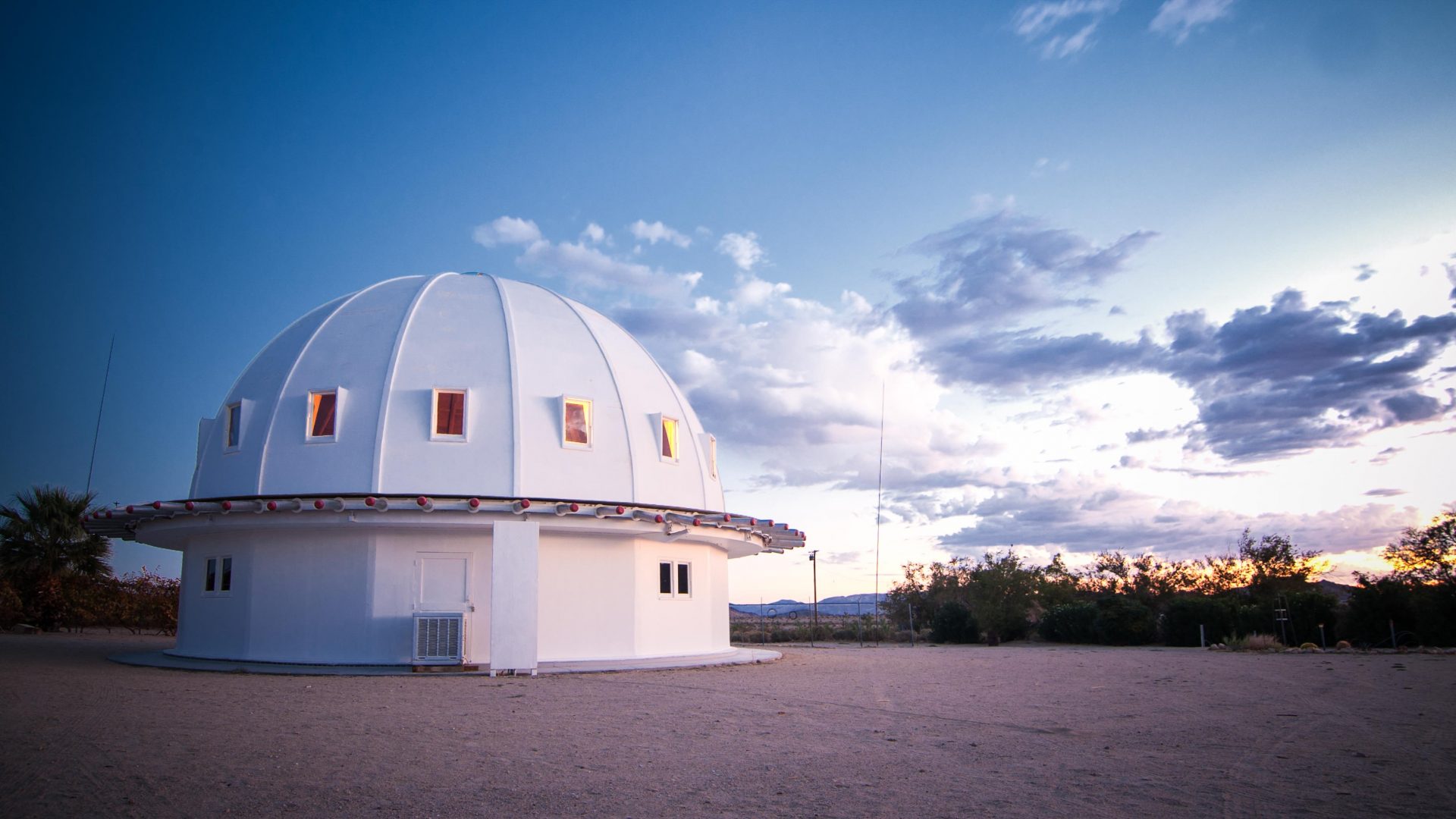 Source: adventure.com
If you venture just a few miles outside of Joshua Tree to Landers, you can visit the Integratron, a structure listed on the National Register of Historic Places. George Van Tassel is said to have (rather bizarrely) created the structure "based on the design of Moses' Tabernacle, the writings of Nikola Tesla, and telepathic directions from extraterrestrials."
The wooden dome is supposedly located on an intersection of "powerful geomagnetic forces that, when focused by the unique geometry of the building, concentrate and amplify the Earth's magnetic field." You can experience these forces yourself through the 30-minute sound baths the owners of the structure offer, which are designed to heighten peace, awareness, and relaxation. Just be sure to schedule your bath well in advance; the crystal-infused sessions fill up fast.
If you're interested in living in this uniquely scenic haven, you can check out all homes for sale in Joshua Tree here. And be sure to head over to the Local section on Noted. to read more from our curated list of things to do, cities to see, and places to go.
Leave a Comment