Meet the Liberal Pioneer of Modernist Tract Housing, Joseph Eichler
Written by Kelly Weimert on Tuesday, June 25th, 2019 at 4:07am.
Source: atomic-ranch.com
Joseph Eichler is a post-war real estate developer who's most famous for building high-quality, modernist homes on a large scale. According to his son, Eichler was inspired to develop well-crafted modernist homes for the masses after living in a house designed by Frank Lloyd Wright. Seeking to make these homes more accessible to the middle class, Eichler developed over 11,000 modernist tract homes in California, which were aptly dubbed "Eichlers".
The famously liberal Eichler was also the first large-scale tract builder to sell his homes to minorities, stepping down from the National Association of Home Builders in 1958 to protest its racially discriminative policies and practices.
Eichler enlisted prominent architects to design and construct his homes, including Robert Anshen, a well-respected architect and student of Frank Lloyd Wright. Anshen was responsible for designing the Eichler prototype, which was constructed in 1949. Later, Eichler hired respected architects, like A. Quincy Jones and Raphael Soriano, to expand upon the initial Eichler design.
Eichler homes are quintessentially California Modern, pointedly borrowing styles and inspiration from modernist giants like Frank Lloyd Wright and Mies van der Rohe. They typically featured walls of glass, post-and-beam construction, and open floor plans, which were characteristic of Mies' and Wright's styles. In addition to large glass walls, Eichler homes blended the outdoors with the indoors through the use of skylights, patios, and signature open-air atriums.
Eichler homes can still be found throughout California today, and their timeless style continues to look every bit fresh and modern. Below are a few examples of these iconic houses.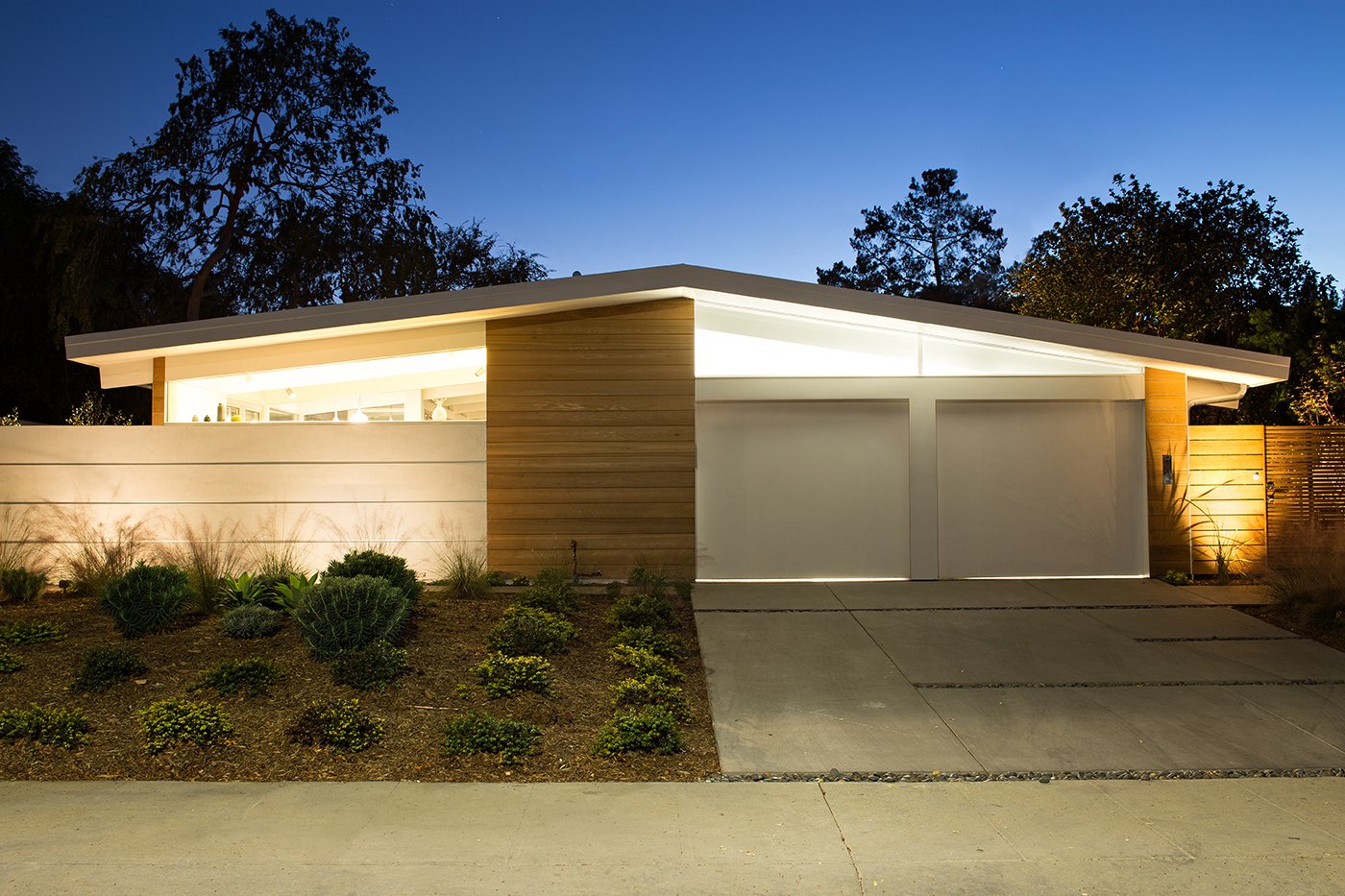 Source: dwell.com
Most Eichlers only feature large windows in the back of the house, providing privacy from the street. This home features a roofline supported by glass walls and clear cedar siding that helps it blend with the landscape.

Source: dwell.com
Though it's been renovated since its initial construction, this Eichler demonstrates the expansive open floor plans and glass walls that were characteristic of the style.

Source: dwell.com
Formerly reserved for high-end, custom-built homes, the tongue-and-groove paneling pictured here was incorporated into most Eichler homes, giving them a unique and custom feel.

Source: realtor.com
This stunning Eichler showcases an example of the open-air atriums that became a signature design element of these homes.

Source: atomic-ranch.com
Eichler homes were built with relaxation and the California lifestyle in mind, using large open spaces and walls of glass to achieve that indoor-outdoor feel.

Source: realtor.com
The open floor plan and post-and-beam construction of Eichler homes make them easy to remodel and modernize. They also often featured luxuries, like radiant floor heating, that were formerly reserved for the ultra-wealthy.
Eichlers for Sale
If you love Eichler homes or you're interested in buying an Eichler, check out our list of all Eichler and Eichler-style homes for sale, curated by Nook experts.
Leave a Comment