Meet the Father of Desert Modernism, Albert Frey
Written by Kelly Weimert on Friday, October 18th, 2019 at 11:05am.
Source: daledoesthedesert.com; portrait by Julius Schulman
Albert Frey was an American architect from Switzerland who created his own style of modernist architecture in Palm Springs, called "desert modernism." Frey attended architecture school in Zurich in 1924, where he received technical building instruction while studying the De Stijl, Bauhaus, and modernism movements, all of which heavily influenced his design style.
In 1928, Frey became one of two full-time employees in the Paris atelier, working under the supervision and guidance of architects Le Corbusier and Pierre Jeanneret. Frey left Paris the same year for the United States but retained a strong friendship with Le Corbusier throughout his life.
Being that Frey was the first U.S. architect to work with the internationally popular Le Corbusier, he soon received opportunities to work with other prominent architects, like A. Lawrence Kocher. Kocher was the managing editor of Architectural Record and the two of them created numerous buildings together while contributing highly influential articles on urban planning, technology, and modernism to the publication.
After working with Kocher for several years, Frey joined forces with John Porter Clark, a Palm Springs architect from Cornell who would become his collaborator for more than 20 years. In 1937, Frey briefly moved out to New York to work on the Museum of Modern Art, which he finished in 1939 before moving back to Palm Springs to resume his work with Clark.
As World War II came to a close, the population of Palm Springs grew exponentially, with Hollywood elite and east coast industrialists creating a resort community full of expendable income that Frey and Clark would capitalize on.
People flocked to the pair to create homes and buildings in their signature style, which featured accents like butterfly rooflines, rock facings, exposed ceilings, and glass walls. And true to modernist form, Frey and Clark focused on integrating their designs into the surrounding landscape, using color and metaphor to blur the line between locale and residence. They also blended organic elements with high-tech materials, taking advantage of the Post War technological boom.
Below, we highlight a few of our favorite Frey-designed homes.
Frey House II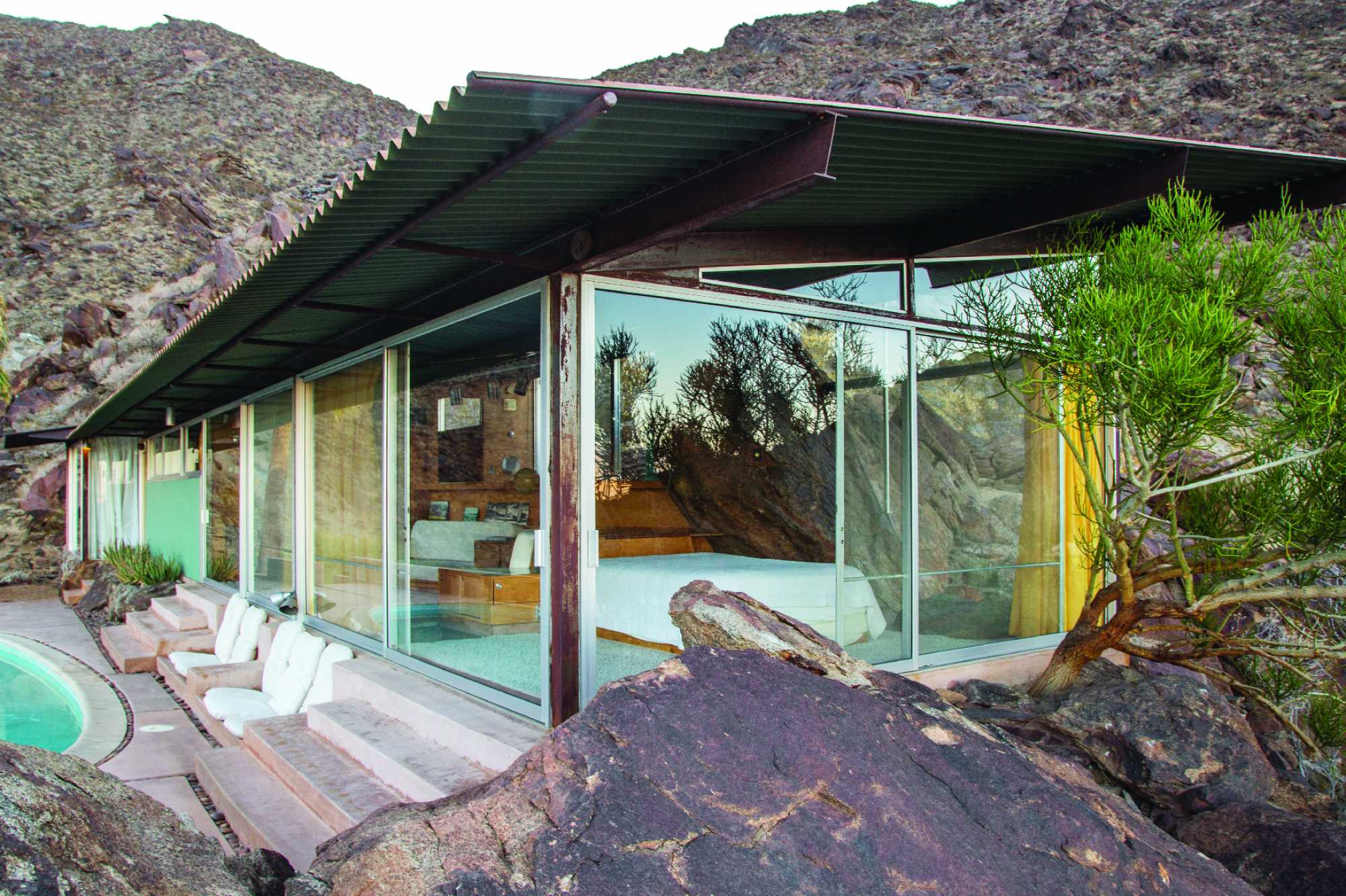 Source: psmuseum.org
Among Frey's most well-known works, the Frey House II was Frey's long-time residence. Perched atop the mountainside at the highest elevation of any residence in Palm Springs at the time, it features a flat corrugated-aluminum roof, sliding glass doors to create an indoor-outdoor experience, and overhangs to block out the hot summer sun. The steel-framed structure was also designed to have a minimal impact on the environment.

Source: dwell.com
The Cree House cost only $40,000 to build and is supported by thin steel columns, making it appear to float over the terrain. Painted Encelia Green to match desert flowers, the house is a stunning example of Frey's commitment to using the surrounding landscape as his muse. The design shares some similarities to Le Corbusier's Villa Savoye, demonstrating the architect's influence on Frey.
The Cree House is currently for sale! View the listing details and more photos here.
Tramway Gas Station

Source: wikimedia.org
Frey designed the Tramway Gas Station, a Palm Springs landmark, in 1965 with Robson Chambers. Believed by many to be a quintessential example of modernist architecture, the building was listed on the National Register of Historic Places in 2015 and now functions as the Palm Springs Visitor Center. It features a stunning butterfly roofline, which is among the defining characteristics of Frey's designs.
Aluminaire House

Source: curbed.com
Frey and Kocher designed the Aluminaire House as case study of prefabricated homes in 1931. The house is comprised of donated steel and aluminum and was built in just 10 days. It was intended to represent the modernist ethos of simplicity, affordability, and function. The house was first assembled in New York and his since been disassembled, relocated, and reassembled multiple times. It now sits in Palm Springs and was just featured in the 2020 Modernism Week: Fall Preview.
If you love modernist architecture as much as we do, try checking out our innovative Search With Style® tool, where you can view all mid-century modern homes for sale. Or, search all homes by your favorite architectural style. Download the Search With Style app >
Leave a Comment