Meet the Architect of California's Golden Age Wallace Neff
Written by Kelly Weimert on Tuesday, January 28th, 2020 at 10:05am.
Source: latimes.com
Born in 1895, Wallace Neff was a California architect who many attribute to developing the quintessential Southern California architectural style the state is known for. Neff studied architecture under Ralph Adams Cram in Massachusetts before returning to his birthplace of California to to work as a shipyard draftsman.
After spending several years working as a draftsman, Neff began his career as an architect, designing structures that were heavily influenced by Spanish and Mediterranean architectural styles. One of Neff's earliest designs was his own church, the St. Elizabeth of Hungary Roman Catholic Church, built in 1926 in Altadena.
The church featured a Spanish Medieval design, complete with a bell tower modeled after a Spanish watchtower. The building included other Spanish-inspired details, like terracotta tiles and an arched porch, in addition to broad, stucco-on-concrete walls featuring stained-glass windows.
Neff's unique architectural voice became increasingly popular, catching the eyes of many elite and famous clientele, including Mary Pickford and Douglas Fairbanks who commissioned Neff to redesign their mansion, dubbed Pickfair, which became among Neff's most famous works.
The architect moved to Pasadena to make it easier to serve his growing list of wealthy clients, designing mansions throughout the neighborhoods of Beverly Hills, San Marino, Chapman Woods, and other exclusive areas in lower East Pasadena. Today, Neff's mansions are still in demand among celebrities, with the likes of Bob Newhart, Madonna, Diane Keaton, Brad Pitt, and Jennifer Aniston having purchased his homes.
In addition to mansions, Neff was also famous for designing the Bubble House, a dome-shaped structure comprised of reinforced concrete cast over an inflatable balloon. Neff's Bubble House design was intended as a form of inexpensive housing and while it didn't gain much recognition or traction in the U.S., the design was used as a model for large housing projects in Brazil, West Africa, and Egypt during the 1940s and 1950s.
Given the architect's versatile and distinct style, it's easy to see why his designs were so coveted. We highlight a few of Neff's most prominent works below.
St. Elizabeth of Hungary Roman Catholic Church

Source: momonamissionlacom.wordpress.com
One of Neff's earliest works, the aforementioned Spanish-inspired church features many of the design details that would become signatures of the architect's style, including a terracotta tile roof, arched porches and entryways, and elaborate window sills.
Pickfair

Source: wikimedia.org
Neff was commissioned by Mary Pickford and Douglas Fairbanks to redesign their mansion, which he did in mock Tudor style. The redesign of the 25-room mansion took five years to complete and includes ornate and luxurious details like ceiling frescos, wood-paneled halls of mahogany, parquet flooring, and gold-leaf accents.
Bubble House

Source: latimes.com
These Neff-designed Bubble Houses were built in Angola in 1956 as housing for railroad employees. The unique structures were then converted into school buildings and are still in use today.
Gillette Mansion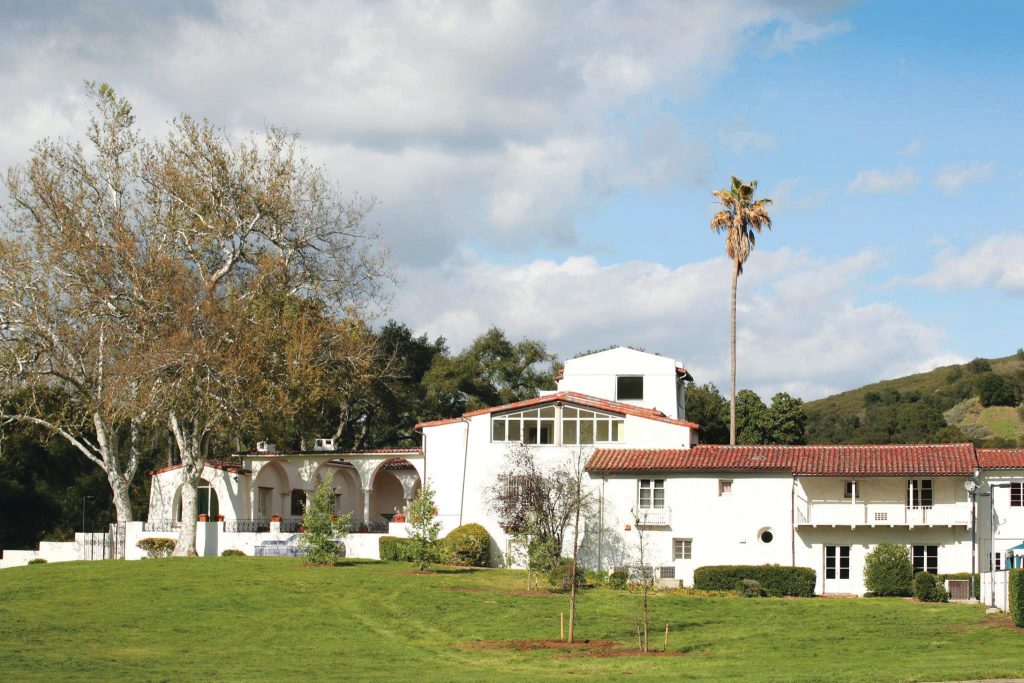 Source: venturacountytrails.org
Neff designed this mansion for King Gillette, founder of Gillette razors, in 1929. The Spanish Colonial Revival-style home features all of the ingredients of Neff's distinctive style, including terracotta roofs, broad stucco walls, and arched details.
Niblo Mansion

Source: image-archeology.com
Film director Fred Niblo enlisted Neff to design this mansion in 1924. The large residence thoughtfully blends in with its surroundings and includes an oversized circular driveway. The mansion has remained largely unchanged since its construction and has been owned at various times by Jules Stein and Rupert Murdoch.
If you're a fan of the 'California style' pioneered by Wallace Neff, be sure to check out all Spanish-style homes for sale near you.
Leave a Comment