Meet Southern California Modernist Icon Calvin C. Straub
Written by Kelly Weimert on Monday, March 16th, 2020 at 11:00am.
Image: Buff, Straub, Hensman; Source: usmodernist.org
Calvin Chester Straub was an American architect who helped shape Southern California's postwar, modernist architectural style. Born in 1920, Straub graduated with a bachelor's degree in architecture from the University of Southern California (USC) in 1944. Upon graduation, Straub served in the Navy during the remainder of WWII before returning to Pasadena to resume his architecture career.
In 1946, Straub took a teaching position at USC, later becoming dean of the university's College of Architecture. During his time at USC, Straub focused on architectural responses to social issues, including low-income housing needs. This focus helped shape his architectural style, which emphasized function, simplicity of form, and craft inspired by natural materials. The architect also integrated context and climate into his designs, creating homes suited for the space that they're in and the people that live in them.
Straub moved to Arizona in 1961 where he taught at Arizona State University (ASU) and practiced architecture throughout the region. During a 1982 lecture at the ASU symposium on the American House, Straub outlined many of the values that informed his work, stating that "the Western House is more concerned with creating a background for people rather than a dominating formal statement. Criteria are serenity, unobtrusiveness, and avoidance of self-conscious pretentiousness."
With its emphasis on craft, simplicity, and indoor-outdoor harmony, Straub's architectural voice was strongly influenced by arts and crafts and modernist architectural styles. He personally knew modernist giants like Frank Lloyd Wright and Rudolph Schindler, and briefly worked for Richard Neutra, all of whom no doubt helped to inform his simple and elegant style.
During a retrospective exhibit of Straub's work in 1987, the architect shared a "Statement of Intent" he wrote in the 1950s. The principles, which give great insight into the intentions behind his designs, are as follows:
To recognize the unique nature of each client, each site, each project--there should be no preconceptions to the design

To realize, in form, the role of architecture as a means to an end, not an end in itself. It should be an inspiring background for living, not a monument

To create order and unity with simplicity as an antidote for the chaos and environmental anarchy of the times

To approach architecture in a direct and honest manner--not to search for the devious and fashionable

To understand the difference between the validity of traditions and the dead-end of the cliché of eclecticism

To participate in the total architectural process; design, construction, landscape, and interiors, to bring it all together as a creative whole

To search for refinement and self-development as opposed to sensationalism and self-indulgence

To continue to learn through the process of observation, experimentation, and active participation in architecture. To live and to build
Straub's commitment to architectural form and integrity earned him more than 30 awards throughout his career. We highlight several of our favorite Straub designs below.

Source: dwell.com
Located in Pasadena, this post-and-beam home was originally built in 1957 and recently restored by Los Angeles design and development firm, HabHouse. The home is a stunning example of the elegant simplicity and harmony with nature that are inherent in Straub's style.
Source: https://www.mcmdaily.com/case-study-house-20-b/
Built in 1958, Straub designed this house with his colleagues Conrad Buff and Donald Hensman for the famous Case Study Houses program. Dubbed Case Study House #20, or the Bass House, the residence was built in 1958 in Altadena, California, and photographed by iconic architectural photographer, Julius Shulman.

Source: curbed.com
Designed by Straub in 1958, this post-and-beam home features all of the ingredients of a quintessential mid-century design, including vaulted ceilings, large walls of glass, clerestory windows, and an expansive open floor plan.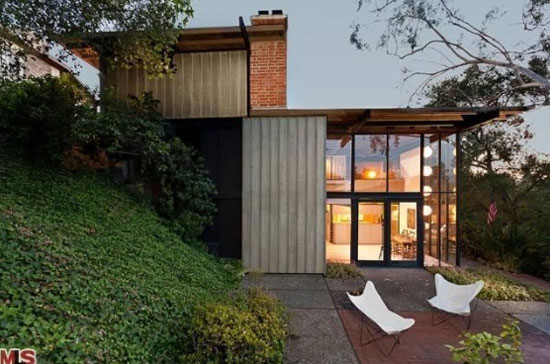 Source: wowhaus.co.uk
Another 1950s design by Straub, this Pasadena property retains most of its original details, including beamed ceilings, built-in custom storage, and soaring walls of glass that blur the line between the indoors and outdoors.
Check out more from Noted. by Nook to find a curated list of people to know, places to go, and top trends in style and design.
Leave a Comment