Meet One of the World's Most Innovative Architects, Le Corbusier
Written by Kelly Weimert on Friday, October 4th, 2019 at 11:05am.
Source: nemolighting.com
Charles-Edouard Jeanneret, better known as Le Corbusier, was a prolific Swiss-French designer, architect, writer, and artist in addition to being among the pioneers of modern architecture. Born in 1887, Le Corbusier grew up with an interest in the arts, which was heavily influenced by his father, a watch craftsman, and his mother, a musician.
When he was 13, Le Corbusier attended Arts Decoratifs at La Chaux-de-Fonds where he followed his father's footsteps, studying the art of engraving and enameling watches. During his time there, Le Corbusier learned from Charles L'Eplatteneir, a Swiss painter and architect who taught him about art history, drawing, architecture, and art nouveau.
L'Eplatteneir encouraged Le Corbusier to deviate from watchmaking to architecture, arranging Le Corbusier's first local architecture commissions. After he designed his first house, Le Corbusier traveled throughout Europe, taking apprenticeships with prominent architects like Auguste Perret and Peter Behrens. While traveling, he studied classical proportion through Renaissance architecture, geometric forms, and landscaping as an architectural tool—all of which would become prominent in his designs.
Le Corbusier returned to La Chaux-de-Fonds to open up his own architectural practice where he began exploring the modern technique of using reinforced concrete to create structural frames. This technique helped him come up with his now famous Five Points of New Architecture, which include open floor plans, support pillars raising houses off the ground, horizontal windows that maximize natural light, minimal facade orientation, and flat roof terraces.
A staunch advocate of functionalism, Le Corbusier has said that "a house is a machine for living in." As such, his designs maximized efficiency, comfort, and productivity, resulting in beautifully engineered, harmonious structures that were way ahead of their time. Check out a few of his groundbreaking works below.
Villa Savoye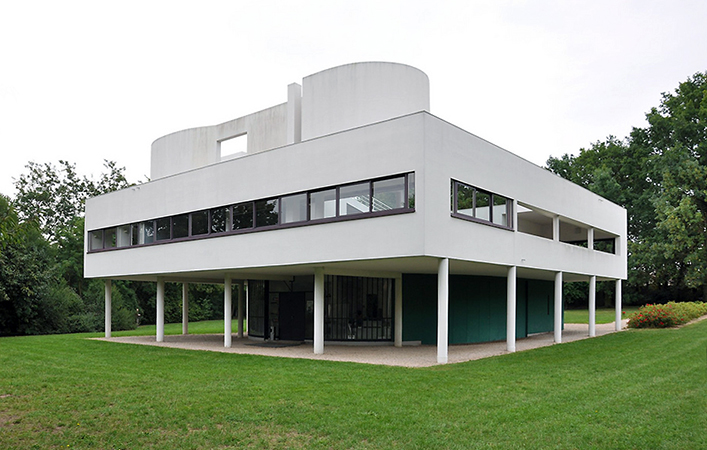 Source: khanacademy.org
Arguably Le Corbusier's most important work, Villa Savoye is a modern take on the French country home, celebrating new technology and setting a historic precedent for many homes to come. It incorporates Le Corbusier's primary architectural design elements, including horizontal windows, support pillars, a roof terrace, and an open floor plan.
Villa La Roche

Source: archdaily.com
Le Corbusier designed Villa La Roche in 1923 for banker and cubist art collector Raoul La Roche. The house integrates all of Le Corbusier's aforementioned five points of architecture while incorporating cubic structural elements designed to display and coincide with Roche's art collection.
Weissenhof Estate

Source: dwell.com
Located in Germany, Le Corbusier designed the Weissenhof Estate with Pierre Jeanneret in 1927. It was created as an experimental housing development that features two homes, entitled House 14 and House 15. It's thought to be among the first structures to feature Le Corbusier's Five Points of New Architecture.
Swiss Pavilion

Source: archdaily.com
Le Corbusier designed this building to be a dormitory for Swiss students attending the Cite Internationale Universitaire in Paris. Working with a very limited budget, Le Corbusier again included his five points of design, including center pillars that give the building a floating effect. There's also a rooftop garden that was intended to serve the students and the surrounding community.
Check out more from our blog - Noted. - to find a curated list of people to know, places to go, and top trends in style and design.
Leave a Comment