How to Modernize a Log Cabin Interior
Written by Kelly Weimert on Friday, December 27th, 2019 at 9:31am.
For centuries, log cabins have been an architectural staple in the United States, coveted for their straightforward construction and charming design. Over the years, log cabins have evolved considerably from their humble beginnings, with many people opting for modern takes on the traditional design. But the modernization of a log cabin's exterior also calls for updates to the interior, which requires a bit of a balancing act between traditional and contemporary design.
The following tips make it easy to cultivate a contemporary, personal interior while honoring the charming, rustic features that made log cabins such a beloved architectural style.
Mix Materials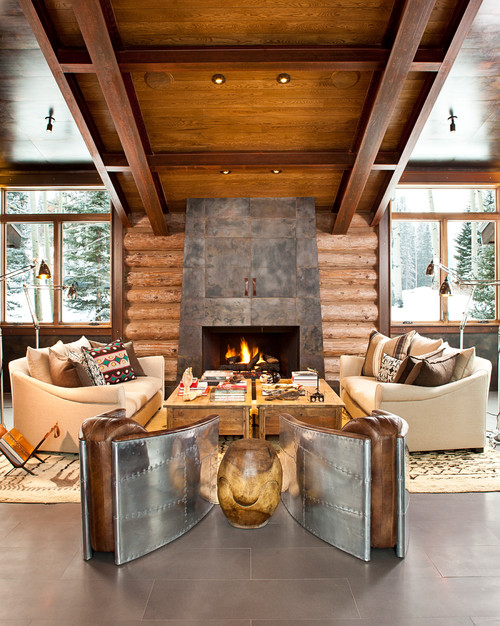 Source: houzz.com
Rather than add wood on wood, as is done traditionally in log cabins, consider mixing up your materials to add dimension to the design. Bringing in elements like ceramic tile, granite countertops, and metal accents will immediately refresh and uplift a log cabin's vibe.
Use Your Lighting

Source: houzz.co.uk
Lighting is a simple and impactful way to refresh a log cabin's interior without compromising its historic charm. Consider installing a set of geometric pendant lights or modern chandeliers to instantly update the entire space.
Play With Color

Source: logcabinhub.com
Earthy hues seem like an obvious choice for the organic feel of log cabins, but they're far from the only choice. Opting for accents in bold, contemporary hues, like this stunning space, is an unexpected design choice that yields ultra-fresh rewards.
Create Custom Railings

Source: trendir.com
Log cabins typically feature very basic stair railings, which certainly have their place, but if you're looking to make the design uniquely your own, then consider a custom railing. This space pays homage to the log cabin's wooden construction with a contemporary bentwood railing that's nothing short of unforgettable.
Add Bold Artwork

Source: houzz.com
Artwork is a no-fail way to update and personalize a space, especially if it's as bold as that pictured here. Juxtaposing the traditional feel of a log cabin with a large piece of contemporary statement art will create a layered and dynamic design that flawlessly balances old and new elements.
Bring in Sleek Silhouettes

Source: onekindesign.com
The soft and organic nature of log cabins often leads to an abundance of big, rounded edges and piles of textiles, which is why going in the opposite direction will immediately modernize it. Incorporating sleek silhouettes and pared-back textiles will add an airy quality to the traditionally heavy feel of these homes.
Are you a log cabin lover? We are, too. Check out all log cabins for sale near you, or download our Search With Style® app to find all homes for sale by your favorite architectural style.
Leave a Comment