How to Enhance the Interior of a Ranch-style Home
Written by Kelly Weimert on Friday, September 20th, 2019 at 11:05am.
Ranch-style homes came into popularity during the mid-20th-century, as postwar America sought practicality, functionality, and affordability in their homes' designs. Prominent architects like Cliff May maximized the style, designing Ranch homes that optimize the flow and activities of daily living.
As a result, most Ranch-style homes feature one story and expansive open floor plans that serve as decorative blank slates. And while a blank slate offers boundless style opportunities, all of those options can make it really difficult to figure out where to start and how to finish. That's why we pulled together the following tips that offer all of the guidance you'll need to enhance the interior design of this iconic architectural style, no matter your aesthetic preferences.
Define Your Spaces

Source: homedit.com
One of the defining characteristics of a Ranch-style home is an open floor plan. This type of floor plan is great for entertaining and everyday living because it provides easy flow of traffic. However, it can also make it hard to distinguish one room from another.
Fortunately, it's easy to define uncertain spaces with simple elements like rugs. For instance, if your kitchen connects to your living room, then incorporate a runner in the kitchen and a large area rug in the living room to define them as separate spaces. You can also add elements like freestanding bookshelves to create pseudo-walls that separate spaces without enclosing them.
Bring in Organic Materials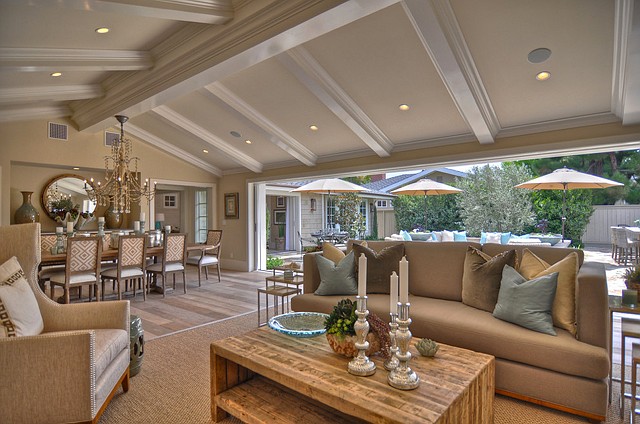 Source: homebunch.com
Ranch-style homes are known for connecting the outdoors with the indoors through large sliding glass doors, ample windows, and the use of organic materials in their construction. So, it's a great idea to incorporate elements from nature into your interior to maximize the style.
You can do this through furniture by opting for items like all-wood tables or sofas with wooden legs, or you can take it more literally and bring the outdoors in by adding decorative plants throughout your space.
Maximize Natural Light

Source: onekindesign.com
As mentioned above, these homes typically rock plenty of windows and sliding glass doors, awashing their interiors with an abundance of natural light. Why not let all of this beautiful natural light inform your design decisions?
For instance, placing large mirrors throughout the home will maximize natural light even further, creating brighter spaces that require less electricity. You can also eliminate window treatments entirely or opt for breezy, somewhat transparent curtains that add visual intrigue and privacy without darkening your home.
Add Artisan Decor

Source: homedit.com
While Ranch-style homes are usually simple by design, they're not without attention to detail and quality. In fact, early architects of these homes went to great lengths to ensure that every aspect was designed with thoughtful care using fine craftsmanship.
A stellar way to honor that craft is by incorporating artisan decor with similar craftsmanship throughout your interior. Sites like World Market and Etsy offer endless beautiful pieces of handmade decor, like planters and blankets, as do many local markets. You can also reach out to local furniture makers to design a custom piece for your home.
Increase Your Outdoor Space's Livability

Source: houzz.com
A lot of people overlook their outdoor space when considering decor, but this area is absolutely critical to the indoor-outdoor design of a Ranch-style home, so it should be a priority when considering your overall aesthetic.
Make your outdoor space feel more livable by investing in quality, comfortable outdoor furniture. Consider incorporating a sofa, several chairs, and a table to make this space feel as inviting as any other area of your home. Lights are another decorative accent that you can use to highlight elements of the space that you love, such as a beautiful garden or fountain, while ensuring you can use the space when the sun goes down.
If you love Ranch-style architecture as much as we do, try checking out our innovative Search With Style® tool, where you can search all ranch-style homes for sale near you. Or download the Search With Style® mobile app and take your architectural search to the next level.
Leave a Comment