How to Add Life and Personality to a Minimal Aesthetic
Written by Kelly Weimert on Tuesday, August 21st, 2018 at 4:05am.
Image Source: lisadiederichphotography.com
Minimalism has seen a major resurgence in recent years, with more and more people opting for the exhale-inducing feel of pared-back interiors. And its continued popularity makes sense: as the world outside feels increasingly chaotic, there's simply no better feeling than coming home to the calm and peaceful vibe of a simplified interior.
However, like most good things in life, adopting this aesthetic does come with its challenges. One of the biggest obstacles minimalists face is designing an interior that's calm and peaceful without sacrificing the life and personality that makes a house a home. Fortunately, it's actually pretty simple to add personality to your look without compromising its minimal feel, it just takes a bit of thoughtful application and curation.
Curate With Color
When a lot of people think about a minimal aesthetic, they envision beiges, grays, and other colorless neutrals, but this look can endure a whole lot more than those basics. In fact, adding vibrant pops of color to your space is one of the easiest and least intrusive ways to fill it with personality. Just take a look at this design from Immy + Indy, which is as colorful as it is calm.
Tinker With Texture
Texture is another quick and easy way to bring life to your design without clutter or chaos, and it comes in endless styles and forms. You can opt for shaggy throw pillows; incorporate organic materials, like raw wood and stone; or simply throw a gorgeous faux-fur blanket over your couch, like this stunning look from est.
Play With Plants
Plants are one of the few design tools that are truly universal. Maximalists and minimalists alike benefit from the warmth and movement they bring, but they make a particularly striking impact on pared-back designs. Whether you incorporate a series of hanging plants, a select few succulents, or statement greenery, like this look from Lisa Diederich, your home will feel infinitely more lively (literally and figuratively).
Make a Statement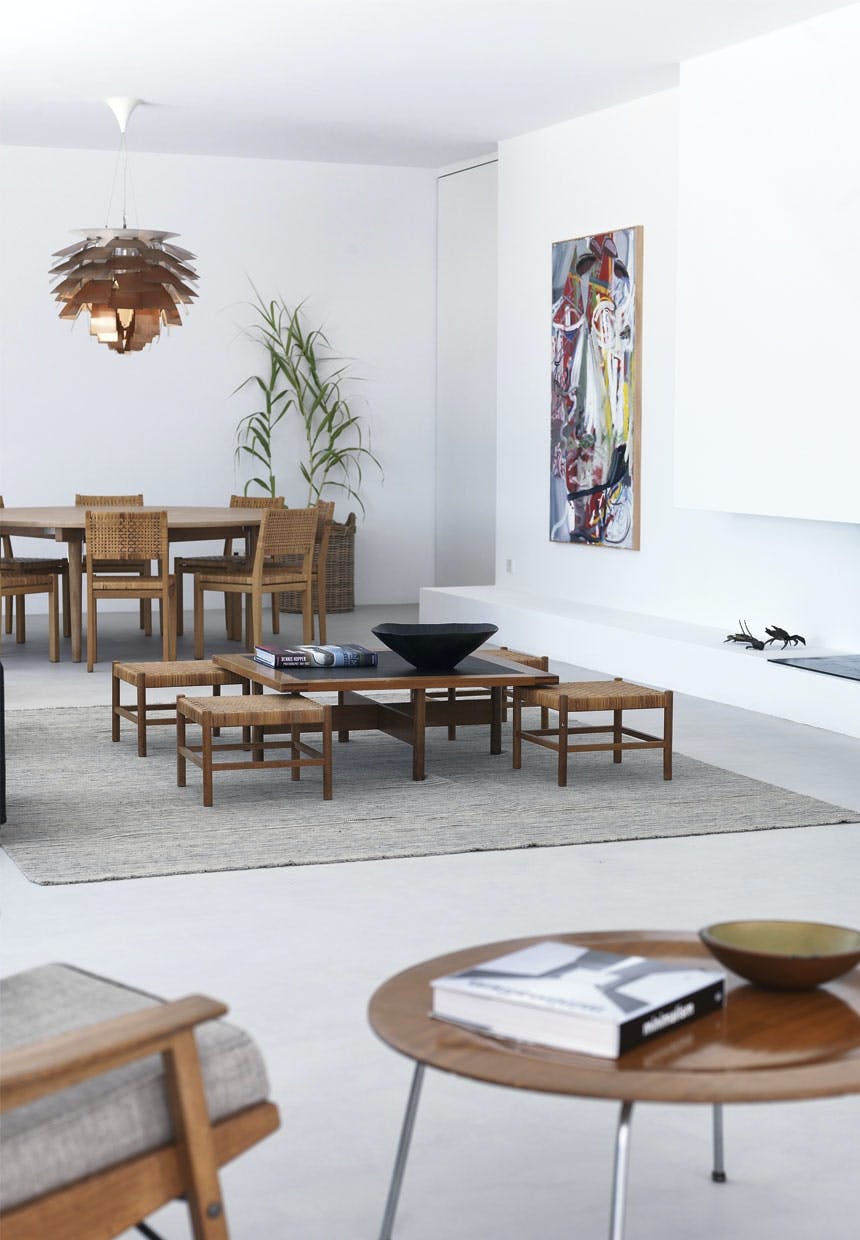 If the rest of your design is quiet and subdued, you needn't be afraid to go big and bold with a statement piece or two. Incorporating one big statement-maker into your aesthetic, be it a striking pendant light, a compelling piece of artwork, or even both, like this design from Bo Bedre, is a no-fail way to add visual intrigue without sacrificing simplicity.
Use Artful Arrangement
Playing with your furniture and decor arrangements is an often-overlooked technique that makes a major impact on minimal designs. And the beauty of this idea is that you don't need to add anything new to make it work. From forgoing symmetry in favor of an asymmetrical arrangement to uniquely layering different-sized rugs, like this space from Caravan Interiors, the possibilities for a compelling arrangement are truly endless.
Check out our Tipbook for more unique ways to style your home. And if a home with style is what you're really searching for, use our innovative Search With Style® tool to view all homes for sale with architectural character.
Leave a Comment