Defining the Design: Mediterranean-Style Architecture
Written by Kelly Weimert on Friday, February 1st, 2019 at 10:55am.
Source: homedit.com
Mediterranean architecture gained prominence in North America during the early- to mid-20th century. Initially, the architectural style largely mirrored that of the haciendas found in the Spanish New World, featuring abundant arches, rough plaster, and red-tiled roofs. States with rich Spanish histories, like California and Florida, saw a large influx of this style beginning in the 1920s.
Eventually, influences from other European countries, such as Italy, Greece, and France, began to crop up on these homes. These influences combined to create the Mediterranean architecture we see today, which often features composites of European styles, like porticos, stucco, and balconies. The style's popularity in the U.S. is showcased in the myriad 1920s and '30s films that feature it, but the Depression ultimately took its toll on the home-building industry, resulting in affordable and accessible tract housing replacing more ornate styles. However, by the 1960s, there was a resurgence of Mediterranean homes, demonstrating the style's ever-enduring and appealing quality.
Features of a Mediterranean Home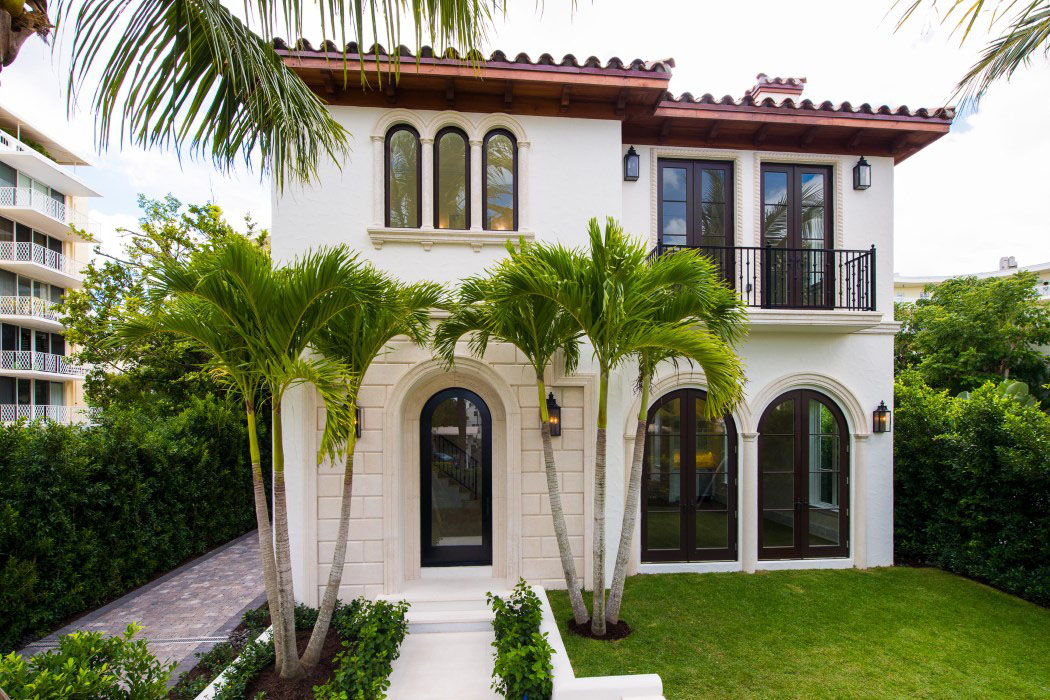 Source: idesignarch.com
Red-Tiled Roof
One of the defining characteristics of Mediterranean homes is their red-tiled roofs. These roofs mirror Spanish and Mexican missions, which were comprised of clay pots and bricks, with a half-tube shape that promotes water runoff.
Arches
Most Mediterranean homes feature various arches, which not only elevate their aesthetic but allow for lighter and sturdier walls.
Stucco
Mediterranean climates call for stucco walls to protect the exterior surface from rain, humidity, sunlight, and extreme heat.
Balconies
These homes frequently have balconies, oftentimes multiple, which may be made of wood or wrought iron.
Wrought-Iron Window Grills
Formerly used primarily as a safety measure, window grills on today's Mediterranean homes are often used to elevate their aesthetic with ornate designs.
Ornamental Doors
Many Mediterranean abodes feature broad, ornamental wooden doors with wrought-iron details and ornate carvings.
White or Beige Exterior
Due to the stucco used to build these homes, most Mediterranean houses have white or beige exterior walls, providing a stunning visual contrast to their red roofs.
Famous Mediterranean Homes
Villa Vizcaya

Source: theculturetrip.com
This Miami home was built in 1914 and designed by architect F. Burrall Hoffman. Characteristic of Mediterranean styles, the home features a blend of European influences, such as a Spanish red-tiled roof and expansive Italian gardens. It's a National Historic Landmark and accredited museum, and is now Vizcaya Museum and Gardens.
Hayes Mansion

Source: wikipedia.org
A "historical treasure" in San Jose, California, the Hayes Mansion was built in 1905 by architect George Page. Its style contains many common features of a Mediterranean home, including stucco walls and imported marble. It's now part of Dolce Hotels & Resorts, and operates as a hotel, venue, and more.
E.W. Marland Mansion

Source: wikipedia.org
Built in Ponca City, Oklahoma, the E.W. Marland Mansion is one of the largest residences in the southwest and is dubbed the "Palace of the Prairie." Architect John Forsyth designed the mansion in 1925, which was largely influenced by the time he spent in Florence, Italy.
Frances Marion and Fred Thomson House

Source: paradiseleased.wordpress.com
Designed by prominent Mediterranean architect, Wallace Neff, this house was built in 1925 for screenwriter Frances Marion and actor Fred Thomson. The house has since been demolished, but its numerous arches, ornate wrought-iron details, and white stucco walls make it a shining example of this architectural style.
Fred C. Aiken House

Source: wikipedia.org
Architect Addison Mizner designed this house, which was built in 1926 in Boca Raton, Florida, for Fred Aiken who would become Boca Raton's mayor in 1929. These days, it's on the U.S. National Register of Historic Places, preserving its quintessential Mediterranean Revival aesthetic.
If you're in the market for a Mediterranean-style home, contact us today and we'll help you find all Mediterranean homes for sale near you.
Leave a Comment