Defining the Design: Loft Style Architecture
Written by Kelly Weimert on Friday, October 12th, 2018 at 4:05am.
History of the Loft
The term "loft" initially referred to upper-level storage spaces, most commonly found in industrial buildings and warehouses. These days, though, when many people think of the term loft, a highly sought-after style of urban home comes to mind.
Starting in the 1950s and '60s, U.S. manufacturing began to move overseas, leaving an increasing number of abandoned warehouses and industrial buildings in its wake, particularly in New York City. Many artists capitalized on these abandoned spaces, seeing an opportunity to live affordably in an expansive home within New York City limits. And, because artists always seem to lead the charge on what become popular trends, many non-artists began to see the cool appeal of these spaces too.
Fast forward to today, and you can find loft style homes all over the country as developers construct new buildings with loft-like characteristics to meet the demand of buyers.
Features of Loft Style Architecture
Open Floor Plan
The defining characteristic of this style is an open floor plan that typically spans at least 1,600 square feet with few walls, if any.
Image credit: caandesign.com
High Ceilings
Because loft style homes stem from renovated warehouses, most of them feature high, vaulted ceilings.
Large Windows
Many old industrial buildings were constructed before electric lights were invented, so they featured large windows to light the space. As such, most lofts today follow suit with oversized windows.
Image credit: dreamstime.com
Exposed Beams and Ventilation Systems
Most lofts come with exposed beams, sprinkler lines, and air conditioning ducts, giving them an edge that pays homage to their manufacturing history.
Industrial Materials
Industrial materials, like concrete, plaster, and brick, are commonly found in loft style homes, with many featuring exposed-brick walls and concrete floors.
Famous Examples of Loft Style Architecture
40 Mercer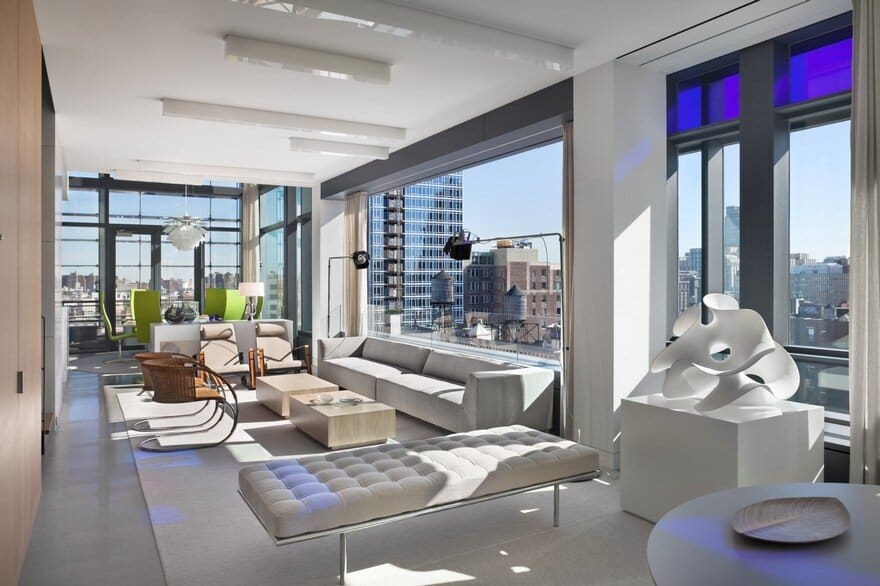 Image credit: homeworlddesign.com
French architect Jean Nouvel designed this 15-story loft development in Manhattan, which was completed in 2006. The building features condos (pictured here), retail spaces, and a spa.
Biscuit Company Lofts
Image credit: curbed.com
Originally the headquarters of the National Biscuit Company, this 1925 Los Angeles staple was restored and adapted as loft condos, such as the one shown here, in 2006.
Westbeth Artists' Housing
Image credit: 6sqft.com // Interior home of current resident, artist Stephen Hall
One of the first industrial spaces adapted for residential use in the U.S., Westbeth Artists' Housing was conceived in the 1960s to provide affordable housing to New York City artists. The 13-building complex, which currently houses 384 artists, has a five-year waitlist to move in.
Image source: curbed.com
This Bay Area loft is the former home and think tank of Steve Perlman, and it can be yours today for a cool $4.5 million. Complete with privacy switch glass, 17-foot ceilings, and a recording studio, this 1917 warehouse conversion is luxury loft living at its finest.
Fun Facts About Lofts
Traditional industrial loft homes are referred to as "hard lofts" while newly-built loft-style homes that share loft characteristics are called "soft lofts.
Loft dwelling was initially viewed as a rejection of convention, with dwellers opting for open-concept living in lieu of the conventional suburban housing of their parents' generation.
Converting warehouse lofts to residential spaces in Manhattan's SoHo neighborhood was initially illegal, but so many people were doing it that New York City was forced to rezone to make these conversions legal in the 1970s.
Lofts For Sale
If lofts are your style, we've got you covered. Use Nook's innovative Search With Style® engine to view all Lofts for sale near you, and check out our featured loft for sale below.
Offered by Stacey May, Nook Real Estate // View Details/Inquire
Leave a Comment