Defining the Design: Farmhouse Style Architecture
Written by Kelly Weimert on Friday, August 31st, 2018 at 10:33am.
Image source: perchplans.com
The term "farmhouse" is thrown around a lot in reference to architecture, but many people don't realize that it doesn't actually describe one particular style. In fact, original farmhouses were constructed in the 1700s and varied quite a bit from one another. Rather than distinct characteristics, authentic farmhouses were virtually any homes built on a farm, often by the owner. They were functional houses designed to make a farming lifestyle easier and were constructed with whatever materials were available -- typically mud and logs initially, then brick and stone as railroads made additional supplies more accessible.
These days, though, if you're looking at a home that's pegged as a farmhouse design, you're more than likely viewing a modern farmhouse, which does, indeed, have distinctive characteristics. Modern farmhouses take the homespun charm of functional farmhouses from back in the day and merge it with fresh design elements to add elegance and intrigue.
Features of a Modern Farmhouse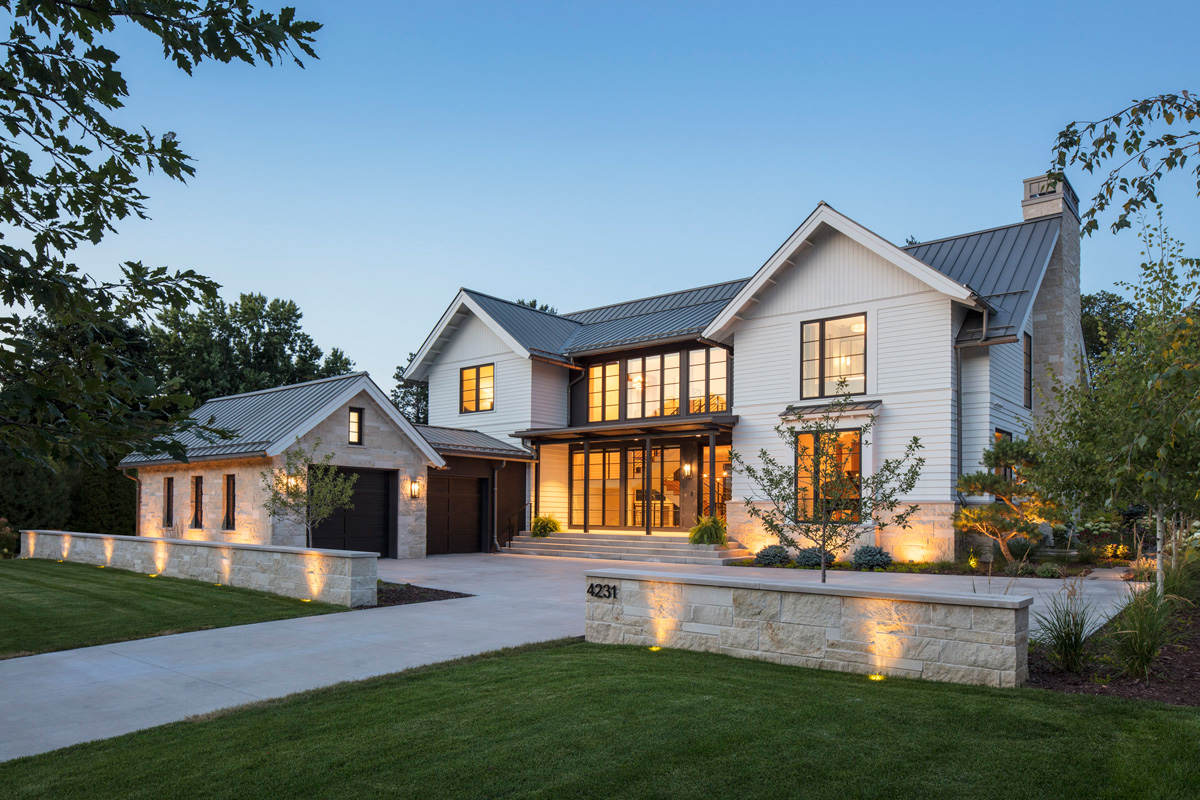 Image source: swanarchitecture.com
Pitched Gable Roof
Arguably the most distinctive feature of these designs, it's tough to find a modern farmhouse without a steep-pitched gable roof. Typically, the roofs fall at a 12:12 pitch, which means both sides of the roof merge at a 45-degree angle, maximizing the height and grand feel of the home.
Board-and-Batten Siding
Traditional barns were built with board-and-batten siding, which is essentially a series of vertical boards along the exterior overlaid with narrow steps (i.e.: battens). Modern farmhouses adopted this style and sometimes install it in the interior, as well, for an intriguing, textural effect.
Exposed Beams
Many modern farmhouses feature exposed beams in the interior, often constructed from reclaimed wood. They're particularly striking in a vaulted ceiling, adding a unique blend of welcoming warmth and elevated elegance.
Image source: houzz.com
Front Porch
Originally, nearly all farmhouses, no matter how varied, came with a functional front porch serving as a transitional space to kick off muddy boots before stepping inside. Modern farmhouses take that function and combine it with form to create expansive, welcoming porches that can wrap around the entire house or simply span the front facade.
Double-Hung, Two-Over-Two Windows
Double-hung windows are windows in which the top and bottom are fully operable. Two-over-two windows means that there are a total of four panes on each window: two on the top and two on the bottom, usually in equal sizes. Modern farmhouses typically incorporate both of these features.
White with Metal Roofs
This isn't true of all modern farmhouses, but many are painted white and have metal roofs. Traditional farmhouses used metal roofs for their increased function and durability and modern farmhouses often follow suit. Furthermore, white is the color of choice for many modern farmhouses because it emphasizes texture and material, which are the star players of these designs.
Modern Farmhouse Architects
Image source: dwell.com
One of the interesting components of farmhouse designs is that they were initially designed and built with only function in mind. They varied immensely in style and form, and were typically constructed by the owners of the house themselves with whatever materials they had available.
Modern farmhouses are markedly more defined and styled, often designed by architects, but their inherent simplicity and function means that there aren't many individual architects that stand out as the most prominent modern farmhouse designers. Instead, a wide breadth of architects adapt this simple style across the country, adding personal flair and touches depending on their aesthetic leanings and style sensibilities.
Fun Facts About Modern Farmhouses
Modern farmhouses actually take more elements from Victorian architecture than traditional farmhouses. Namely their front porches, gabled roofs, and siding.
Traditional farmhouses were nearly always built without architects as they were homes for lower- to middle-class farming families who couldn't afford them.
Traditional farmhouses were also called folk houses.
Interested in adopting a modern farmhouse of your own but don't know where to start your search? Check out our Search With Style® tool to find all farmhouses for sale near you.
Leave a Comment