Defining the Design: A-Frame Style Architecture
Written by Kelly Weimert on Friday, July 27th, 2018 at 8:38am.
Image source: thehandandeye.com
A-Frame Architecture History
Simple, striking, and entirely unique, A-Frame style architecture is nothing if not unforgettable.
Prior to becoming popular in the United States, A-Frame houses could be found throughout Europe, China, and the South Pacific Islands where they were designed to be purely utilitarian structures, coveted for their low-maintenance and durable design. Then, in 1934, architect Rudolf Schindler built the first modern take on an A-Frame vacation home for costume designer, Gisela Bennati, bringing the unique style to the states.
However, it wasn't until the 1950s and '60s that the style really took off. The post-WWII economic boom afforded disposal income to many, with the wages for an average worker rising by 50%. And many people were looking to spend that income on second homes and vacation retreats. In 1957, The New York Times featured an A-Frame home dubbed the Skychalet II, touting the home's durability and simplified construction, which gave these designs mainstream appeal that would last for the next several decades.
Image source: yliving.com
Speaking of simple construction, building an A-Frame home is so straightforward and easy that pre-fabricated kits were sold in major retail outlets, like Macy's, where the average consumer was invited to build an A-Frame house of their own.
Features of an A-Frame Home
Image source: curbed.com
Steep-Pitched Roof
The primary defining characteristic of the A-Frame style is its steep-pitched roof and corresponding gables on the front and back of the house. Typically, the roof nearly reaches the ground on either side of the home, creating an A-shaped silhouette, hence the name A-Frame.
Wood Siding
A-Frame homes are traditionally built with wood siding, giving them a cozy cabin-in-the-woods feel. But with many architects adapting these designs with their own flair, you'll also find other types of siding depending on the architect's style sensibility.
Open Floor Plans
Most floor plans in an A-Frame home are open concept, making the typically small designs feel much more spacious and fluid. You'll also find that many combine the living and dining areas, contributing to the cozy communal vibe of these designs.
High Ceilings
Due to its limited shape, most A-Frame homes only have one main story with some type of sleeping loft installed in the second tier. The design results in strikingly high ceilings that make the homes feel uniquely grand and elegant.
Famous A-Frame Style Architects
Since its introduction to the U.S., architects far and wide took advantage of the adaptability and versatility of this style, offering fresh and unique takes on the A-Frame design.
As mentioned, Rudolf Schindler was the first to bring a modern take on an A-Frame home to the United States. Schindler's Lake Arrowhead design was reminiscent of his former employer, Frank Lloyd Wright's style. The front of the home was entirely made of glass, cross-hatched with thin wood mullions and encased in a wood-framed design. Inside, exposed plywood walls and rafters created an elegant, rustic feel while a double-height living room made for expansive, exhale-inducing visuals.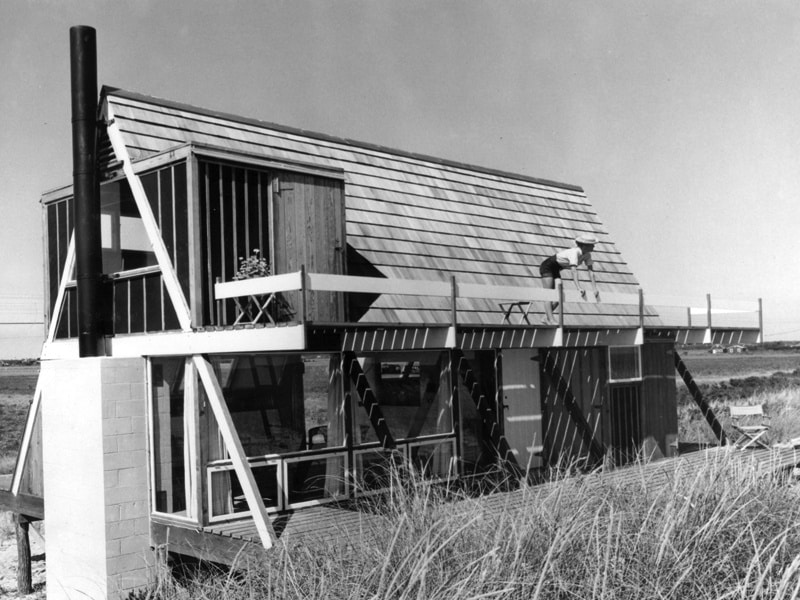 Photo of the Reese House. Image source: 1stdibs.com
Andrew Geller is another popular A-Frame architect, building the now-famous Elizabeth Reese House on Long Island. The house was designed to be a sort of elegant beach shack, with designated spaces for sunbathing and meditation. With cantilevered walkways, a free-standing fireplace, and a bedroom accessed by pulley, Geller made the A-Frame style entirely his own. In fact, many attribute the style's rise in popularity to his abstract take on a traditional A-Frame design.
Henrik H. Bull is responsible for building the first A-Frame ski cabin in the U.S., constructed in 1953. Built in Vermont, the cabin was the perfect retreat from a cold day on the slopes. So perfect, in fact, that Bull designed several prefabricated kits based on the home, which became wildly popular in the '50s and '60s. "The essence of a good cabin," said Bull, "is that it should be simple and economical but also fun, different, and exciting."
Fun Facts About A-Frame Style Architecture
Prior to their modernization in the U.S., A-Frame homes were called roof huts and were largely only appreciated for their simple construction and durability rather than the striking designs available today.
Due to prefabricated kits, more A-Frame homes were built without architects than with them, with many opting to take the construction into their own hands.
If you spend some time on Ebay, you can find a number of pattern books from the 1960s, which many homeowners used to construct their own A-Frame home.
Some believe that A-Frame homes are about to see a second-coming in terms of popularity, which could be attributed to their incredibly unique and Instagram-worthy design.
A-Frame Style Homes for Sale
If you're ready to secure an A-Frame retreat of your own, Search With Style® to check out all A-Frame homes for sale in your area.
Leave a Comment