The Best Places to Watch 4th of July Fireworks
Written by Kelly Weimert on Monday, July 1st, 2019 at 4:07am.
Source: visitmarinadelrey.com
July 4th is here again, which means if you haven't already, it's time to secure your barbecue, pool party, and, of course, fireworks plans. There are a lot of places that claim to offer some of the best fireworks shows around, but there are only a few that really hold that designation. To take the guesswork out of your 4th of July plans, we rounded up the tried and true spots to watch spectacular fireworks shows from San Francisco to Miami.
San Francisco
The 4th of July party at Berkeley Marina is great for everyone, but the family-friendly event it's particularly ideal for folks with kids. In addition to a front-row seat to a beautiful fireworks display over the water, party-goers are treated to ziplines, pony rides, walk-on-water bubble balls, live music, and all kinds of delicious food from gourmet food trucks and stalls.
Orange County
Huntington Beach is full of July 4th festivities from morning 'til night. During the morning of the 4th, you can participate in the Surf City 5K or nosh on a special pancake breakfast at The Kiwanis Club before heading to the 114th-annual Fourth of July Parade, complete with food, costumes, and live music. Then, close out the day at the Huntington Beach Pier to check out the stunning (and free!) fireworks show at 9 pm.
Los Angeles
Visitors from all over head to Marina del Rey on July 4th for its annual fireworks display over the water. The show starts at 9 pm and features synchronized music over the loudspeakers for a truly immersive experience. You can watch the show from virtually anywhere in the area, but if you want the very best view, then reserve a spot on the special two-hour observation cruise from Hornblower Cruises (snacks included!).
Long Beach
There might be no better way to watch fireworks than from a three-level yacht, and that's exactly what this celebration has to offer. A general admission ticket to this 4th of July yacht party gets you access to three levels of fully-stocked bars, live DJs, plenty of dancing, and an unforgettable view of one of the best fireworks show around. Just be sure to get your tickets now—they're selling out quickly!
San Diego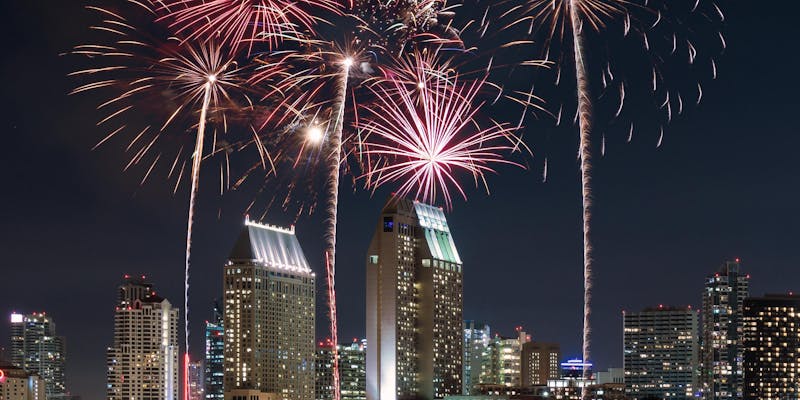 Tickets for this celebration don't come cheap, starting at $170 a pop, but the memories—and all-inclusive open bar—they get you are priceless. The event takes place 40 stories above the San Diego Bay on the top floor of the Manchester Grand Hyatt Hotel, giving you an eyeline view of the Big Bay Boom Fireworks Show. In addition to an unparalleled view of the fireworks, you'll also be treated to unlimited beer, wine, champagne, and premium liquor, plus BBQ-themed grub.
Palm Beach
Delray Beach has everything you could want in a 4th of July celebration, including food, music, booze, and fireworks. The event is free along A1A and Atlantic Avenue, with live music starting at 5 pm and lasting until 9:30 pm when the fireworks start. There's also a Kid's Corner to keep your littles occupied, food trucks to keep your belly happy, and a beer garden to lubricate all the fun.
Palm Springs
To celebrate the 4th while supporting a good cause, head to the 4th of July party and fundraiser hosted by Food Samaritans at the historic O'Donnell House. The house is located high on the mountainside above the Palm Springs Art Museum, so you get a beautiful view of the fireworks, including a synchronized soundtrack, at 9:15 pm. Plus, there will be a DJ playing dance tunes in addition to delicious BBQ offerings.
Miami
The annual birthday party for America held at Bayfront Park is a free, all-day event that lasts from 10 am 'til midnight. In addition to one of the best fireworks displays in Florida, the event offers live music, a kid's play zone, plenty of grub, and a beer garden. But the party is popular, so you'll want to get there early to stake out a good spot near the water to watch the spectacular fireworks display at 9:00 pm.
Check out the Local section on Noted. to read more from our curated list of things to do, cities to see, and places to go.
Leave a Comment