8 Amazing Vinyl Shops to Add to Your Bucket List
Written by Kelly Weimert on Wednesday, October 10th, 2018 at 4:05am.
In the digital era we live in, pretty much everything we need can be found on our phones, including music. And while the convenience of having the world's catalog of music right in our pockets can't be overestimated, the rich, authentic sounds that come from a good ol' fashioned vinyl are unparalleled.
Evidently, we're far from the only ones who appreciate the sound that only vinyl can bring. There are quite a few thriving record shops in Southern California, the Desert, the Bay Area, Miami, Palm Beach and beyond that are beloved for their rare merch and nostalgic feel. If you're in the mood to give your phone a rest for a bit, head to one of the following shops to add one (or five) vinyls to your collection.
San Diego
Folk Arts Rare Records
Image credit: blog.discogs.com
One of the oldest record shops in California, Folk Arts Rare Records is a small space that's packed with interesting and hard-to-find vinyl treasures. With its selection of new and used vinyl featuring every genre under the sun, it's the perfect destination for eclectic collectors looking to impress friends with their rare music gems.
Orange County
Port of Sound Record Shoppe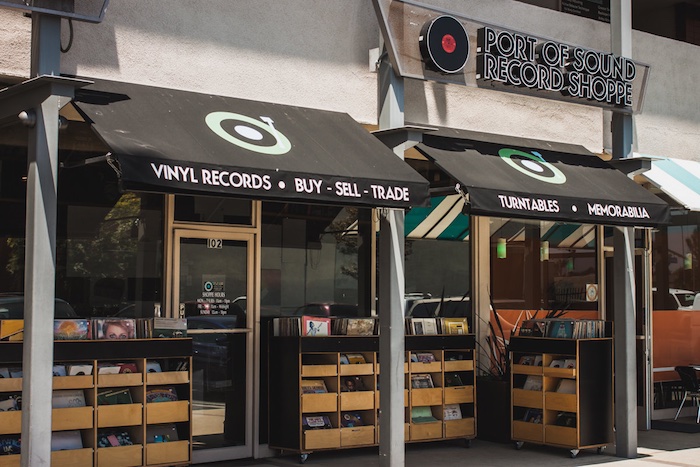 Image credit: instagram.com
Boasting one of the largest record collections in the world—yes, world—Port of Sound Record Shoppe has everything a vinyl enthusiast could ask for. The shop's expansive collection is attributed to its employees, who are diehard music fans empowered to be buyers for the store. From classical to electronic to hip hop, there's something for everyone here.
Long Beach
Fingerprints Music
Image credit: go-somewhere-new.com
Founded on a shoestring budget with a credit card cash advance, Fingerprints Music started small over 25 years ago and swiftly became a staple in the Long Beach music scene. In addition to a wide selection of vinyl, the store features a curated collection of CDs, LPs, DVDs, and books. Even better, Fingerprints hosts an ever-evolving stream of live music events with artists like the Foo Fighters, Brian Wilson, and People Under the Stairs performing in their space.
Los Angeles
Rockaway Records
Image credit: rockaway.com
Rockaway Records is one of the longest-living independent vinyl shops in LA. Opened in 1979 by brothers Wayne and Gary Johnson, the store is overflowing with collectibles, such as a rare pressing of the Beatles' White Album, which you can purchase for a cool $10,000. The bevy of tough-to-find treasures here can be attributed to the founders' undying commitment to finding them—they once paid $600,000 for a single vinyl collection.
Palm Springs
Record Alley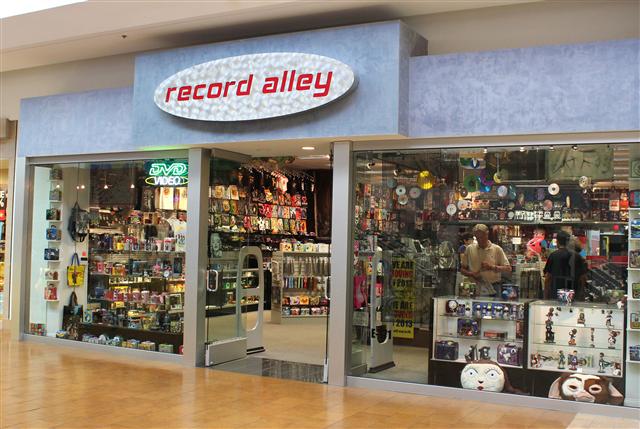 Image credit: musicismysanctuary.com
Record Alley is Coachella Valley's largest record store. The current owners are the same duo who opened the shop in 1978 and they've been buying and selling new and used vinyl finds ever since. Not only will you find an evolving selection of killer vinyl, but you can also get your hands on music-related merchandise, like posters, buttons, and patches from bands like The Beatles, The Rolling Stones, and Led Zeppelin.
San Francisco
Jack's Record Cellar
Image credit: hoodline.com
The thing about Jack's Record Cellar is that it's usually closed. In fact, it's only open on Saturdays and even then you might find yourself knocking and no one's home. But if you're lucky enough to come at the right time, then you'll be greeted with one of the world's best record collections. Originally opened in 1951, Jack's features thousands of 33s, 45s, and 78s from a wide range of genres for every sensibility.
Miami
Sweat Records
Image credit: sweatrecordsmiami.com
Simply put, Sweat Records is a must-visit for any music lover. The store offers an eclectic collection of new and used vinyl alongside books, magazines, and music accessories, like turntables and headphones. Even better, when you're done hunting for vinyl treasures, you can head to the shop's own vegan coffee shop, which serves up locally roasted Panther Coffee along with healthy-ish treats.
Palm Beach
Confusion Records
Image credit: palmbeachpost.com
The owner, John Clements, has been running this used record shop for over 20 years. Clements' extensive experience in the business shows in his well-curated collection of more than 25,000 used vinyls in addition to some VHS tapes (remember, those?) and a handful of laser discs. Visitors to this nostalgic shop can find an infinite variety of classics, like Yesterday and Today by the Beatles, John Coltrane: Ballads, and a sealed box set of Paul McCartney's Liverpool Oratorio.
Live like a local - check out our recommendations for what to do, see, eat and more when you're in these Nook Neighborhoods.
Leave a Comment