7 Tips for Designing a Cozy A-Frame Home
Written by Kelly Weimert on Friday, June 21st, 2019 at 4:06am.
Source: curbed.com
A-Frame homes possess a unique, homespun charm that feels equally expansive and welcoming. Their steep-pitched roofs and simple organic construction give them an elegant yet unassuming appearance on the outside, while their open floor plans and high ceilings provide a world of style opportunities on the inside.
And while interior style possibilities are quite literally endless, many people like to style A-Frame homes with their unique architecture in mind, enhancing their elegant and organic simplicity with complementary design and decor.
The following tips will help you elevate your aesthetic while paying homage to the unique style of A-Frame architecture.
Add Definition

Source: dwell.com
The open floor plan that's common among A-Frame homes is great for providing easy, everyday flow, but it also calls for styling that defines uncertain spaces.
For instance, you can add a floating counter or butcher block to help define the kitchen as its own space, or you can incorporate bookshelves or rugs to separate the living room from other areas in the home.
Draw the Eye Upward

Source: sarahshermansamuel.com
One of the most striking characteristics of A-Frame homes is their high, pointed ceiling, so it's a great idea to maximize this feature with thoughtful styling.
Consider incorporating a beautiful statement chandelier or a series of pendant lights to draw the eye upward. You can also install skylights, which will awash your abode in natural light while enhancing its beautiful architecture.
Invest in a Fireplace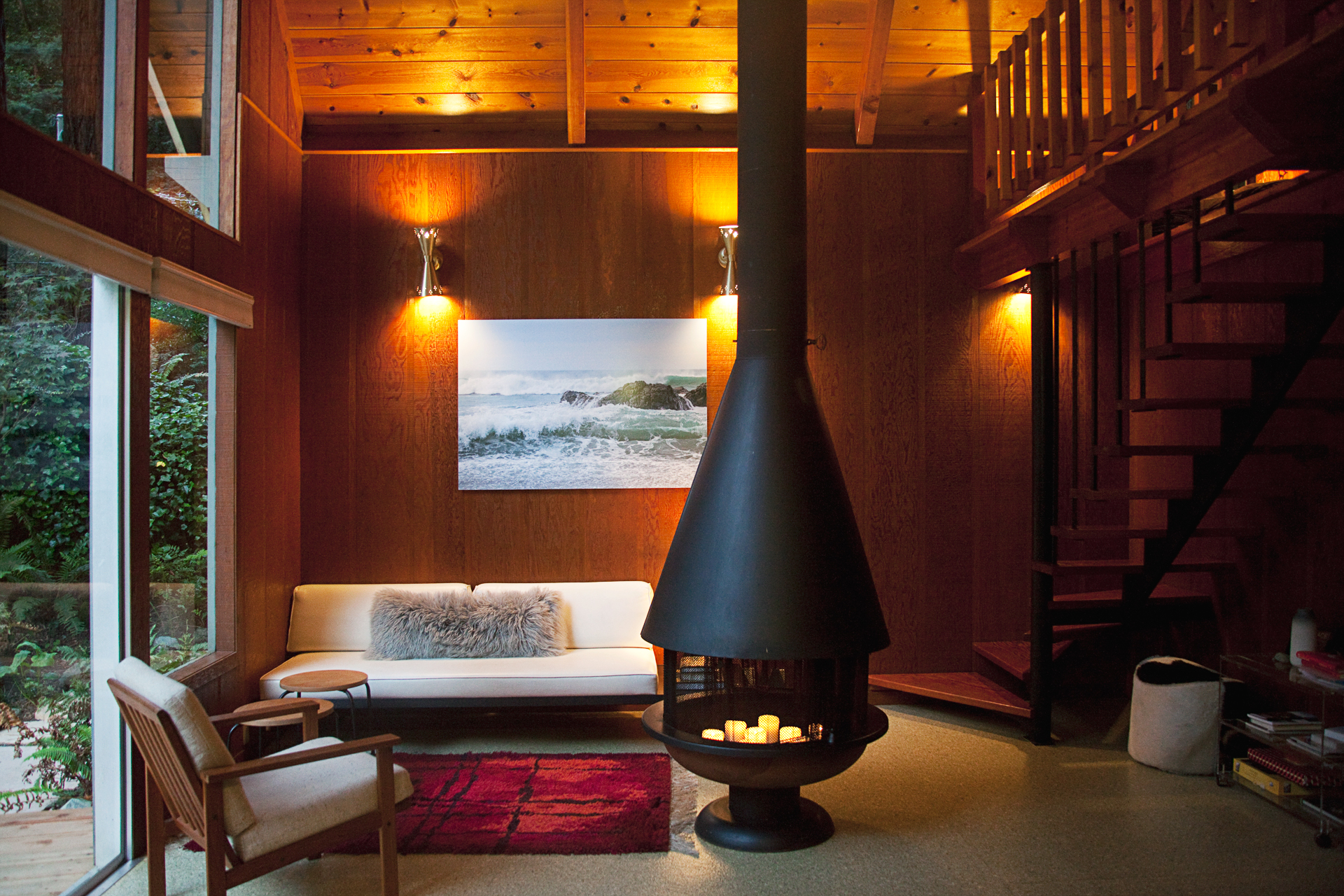 Source: makingniceinthemidwest.com
The inherent coziness of A-Frame designs basically begs for a fireplace. And not only do fireplaces maximize cozy vibes, but they also reduce your monthly heating costs.
A standalone fireplace like the one pictured above will instantly make your home more inviting. You can also paint it a bold color or place candles in it for a contemporary, personal touch.
Consider Sofa Placement

Source: dwell.com
When the ceiling of your A-Frame home extends all the way down to the ground, then furniture placement takes a little extra thought and consideration.
If the pitch of your ceiling allows for it, place your sofa directly against one of the sloping walls—this will expand your visual space while providing sneaky storage solutions behind the sofa.
Customize 'til Your Heart's Content

Source: adventure-journal.com
The unique design of A-Frame homes tends to create uncertain, hard-to-fill spaces, so don't be afraid to incorporate customizations.
You can install custom shelving, built-in desks, and creative cabinetry to ensure that none of the space in your A-Frame abode goes to waste.
Play With Symmetry

Source: moderntinyhouse.org
Most A-Frame homes feature inherent symmetry, with a distinct middle point and two opposing sides with similar layouts. Use that symmetry to your advantage to maximize your interior style's impact.
For instance, you can add two twin-sized beds on opposing sides of the wall to create a satisfying visual in the attic or a child's room. That said, you don't need identical furniture to create symmetry; simply ensuring the visual weight of your decor is equal on both sides of the room is enough to make a symmetrical statement.
Play With Rustic Elements

Source: tiresarena.com
The exposed wood beams and other organic materials common among A-Frame homes lend themselves well to rustic aesthetics.
If you're not too keen on a traditional rustic aesthetic, then you can incorporate just a few rustic elements, like natural wood tables or stone accents, to get the effect without going full-on log cabin in the woods.
If you love A-Frame architecture and are ready to design your own A-Frame home, try our innovative Search With Style® tool to check out all A-Frame homes for sale in your area.
Leave a Comment