7 Tips for Decorating a Spanish-Style Home
Written by Kelly Weimert on Friday, April 5th, 2019 at 8:09am.
The sweeping arches, breezy hues, and ornamental accents of Spanish-inspired architecture draw many to invest in this style of home. The Spanish influences in California and Florida have resulted in an abundance of these homes in those regions, but Spanish-style homes are found throughout the United States, particularly in warmer climates.
If you're like so many who have fallen in love with this style, then you might be interested in curating an interior to match. When decorating a home with such beautiful and unique architecture, finding ways to incorporate the architecture into the interior style will make your home feel that much more cohesive. The following tips are a breeze to apply and they'll leave you with a home that feels like a Spanish vacation.
Incorporate Tile

Source: instagram.com
Incorporating beautiful mosaic tile will instantly give your home a Spanish feel. But don't think tile needs to be limited to the floor. Adding ceramic tile to your bathroom or kitchen walls will elevate your design with personality and intrigue while eliminating the need for abundant decor.
Add Wrought Iron Accents

Source: oldhouseonline.com
Spanish homes are well-known for their gorgeous wrought-iron accents, so consider adding a few to your interior to match. A wrought-iron railing, especially when paired with rich wood, is an obtrusive way to completely nail this look.
Integrate Ceramic Decor

Source: @thefuturekept
The warm, homespun quality of ceramics is a stellar complement to this similarly warm architectural style while adding artisanal flair. Plus, they come in infinite shapes, sizes, and hues, so it's easy to find the perfect pieces to match your style.
Bring in Organic Elements

Source: dwell.com
Organic materials, like wooden furniture and woven accents, are a staple of Spanish homes. Not only do they add warmth and texture to a look, but they also give it a traditional, timeless feel that will look fresh for years to come.
Apply an Earthy Color Palette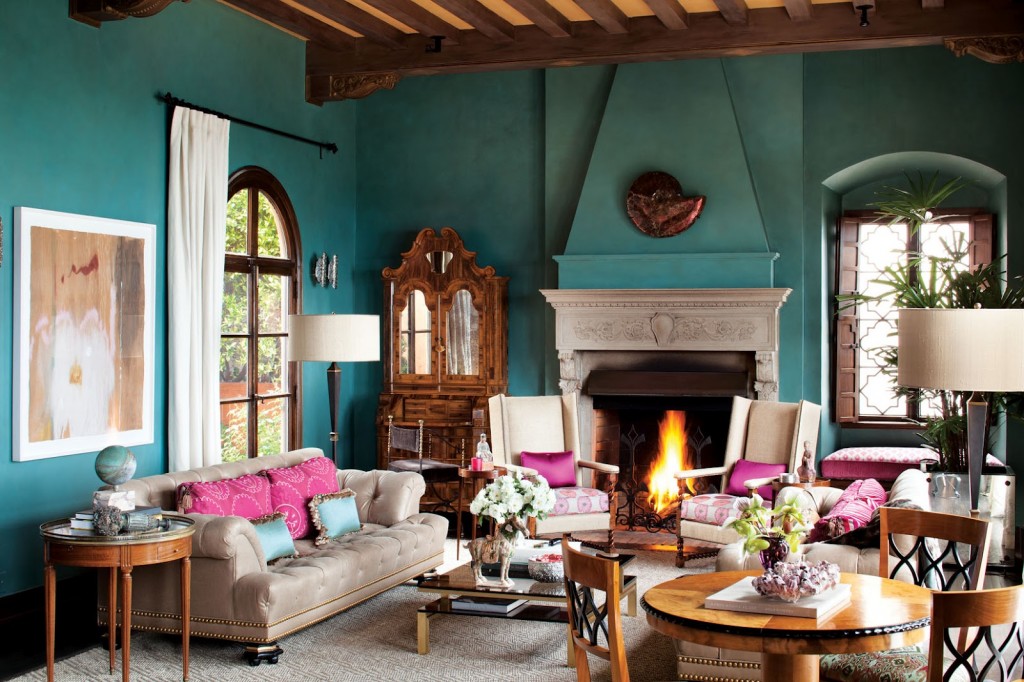 Source: interiorsbycolor.com
Just as organic materials enhance Spanish-style homes, so do earthy hues. Basically, any colors that you'd find in nature, such as deep brown, verdant green, and sandy beige, are great complements to this look.
Add Traditional Furniture

Source: houzz.com
The ornate designs and sumptuous curves of large, traditional furniture go well with the arches and ornamental accents of Spanish-style homes. You can incorporate one or two statement pieces for a touch of tradition or outfit an entire room to get the full effect.
Cultivate Your Outdoor Space

Source: houzz.com
Spanish homes are famous for blending the interior with the exterior, so give love to your outdoor living spaces, making them feel as homey as possible. Wicker furniture with soft cushions is a great choice as it looks and feels inviting while being able to withstand outdoor weather conditions.
If you're interested in purchasing a Spanish home, you'll find our Search With Style® tool to be invaluable in your home search. Head over to view all Spanish-style homes for sale, and narrow your search by adding your specific criteria.
Leave a Comment