6 Small Space Storage Solutions
Written by Kelly Weimert on Tuesday, October 9th, 2018 at 4:05am.
For any number of reasons, from financial to familial, many of us aren't working with quite as much square footage as we'd like. This can pose some serious interior organization problems, resulting in chaotic drawers, messy closets, and random items with no designated place in the home.
And while it can feel hopeless to find organization in the chaos—after all, you only have so much space—it's actually a lot easier than you might think. There are several ingenious small space storage hacks you can take advantage of that are a breeze to integrate and ensure everything in your space has a home.
Float Your Shelves
Floating shelves are a great way to start your storage journey because they'll provide a place for your items without encroaching on your precious square footage. Plus, they're a great way to enhance your design, as evidenced by this artful set up from Fusion D.
Find Functional Furniture
Functional furniture is your best friend when it comes to creating more space, and there are many stylish options to choose from. You can opt for an ottoman that lifts up to store your throws, a wall-mounted fold-down desk, or a coffee table that secretly houses a ton of items, like this one from West Elm.
Create Your Own Closet
Adequate closet space is a hot commodity these days. If your closet is more cramped than clean, then consider DIYing an additional one, like this lovely set up from Historias de Casas. All you need are a few bars and shelves. Not only will this give you more organization space for your clothes, but being that it's on display, it provides extra incentive to keep it looking tidy and organized.
Use Your Bed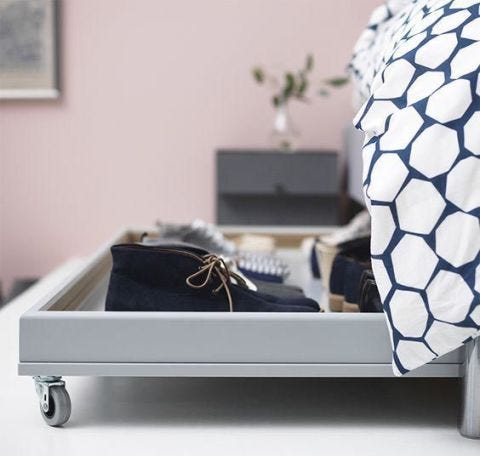 There's likely nothing in your bedroom that takes up more square feet than your bed, so use it to your advantage by storing things underneath it. But don't just cram stuff under there and walk away; use storage containers, baskets, and drawers to keep everything organized, like this IKEA cabinet-turned-shoe storage shared by House Beautiful.
Buy a Pegboard
Rather than cram your kitchen items into chaotic drawers and cabinets, use this idea to ensure they're organized and within arm's reach whenever you need 'em. Pegboards are genius little space-makers that are perfect for providing a place for essential items in a crowded kitchen. If you're not sure how, exactly, to execute this idea, then check out this easy-to-follow tutorial from Inspired by Charm.
Maximize Your Corners
Corners tend to be dead space in a lot of homes, but they're actually packed with storage potential. Instead of letting your corners go to waste, invest in a few hooks and a functional bench, like this entryway layout from Shelterness, to make use of all that empty space.
Need more interior inspiration? Our Tipbook is full of curated design ideas for all different styles and budgets - check it out.
Leave a Comment