6 Affordable Ways to Make Your Kitchen Look Brand New
Written by Kelly Weimert on Tuesday, January 22nd, 2019 at 7:28am.
Whether you feel stuck with an outdated design or you've simply grown tired of your current aesthetic and need a refresher, there are a million reasons to update your kitchen design. This high-traffic area tends to become stale and rundown rather quickly, which is a shame given how much time most of us spend in there.
Fortunately, updating and modernizing your kitchen aesthetic is actually quite simple and affordable; you just need to know where to look and what to do. The following tips are cheap, easy to apply, and will have you falling in love with your kitchen anew.
Replace Your Hardware

Source: decorpad.com
One of the simplest, most affordable ways to completely transform your kitchen is to update its hardware. If you're currently rocking chrome, consider swapping it out for brass to give your space a more luxe feel. You can also incorporate black hardware, which is super trendy right now and infuses a space with definition and contemporary edge.
Update Your Backsplash

Source: cementtileshop.com
Your kitchen's backsplash is the anchor for its entire design, so updating it makes a big difference in your overall aesthetic. From boldly-colored patterns to clean, white subway tile, backsplashes come in endless forms. Plus, many companies provide self-adhesive tiles, making DIY backsplash installation a breeze.
Replace Your Cabinet Doors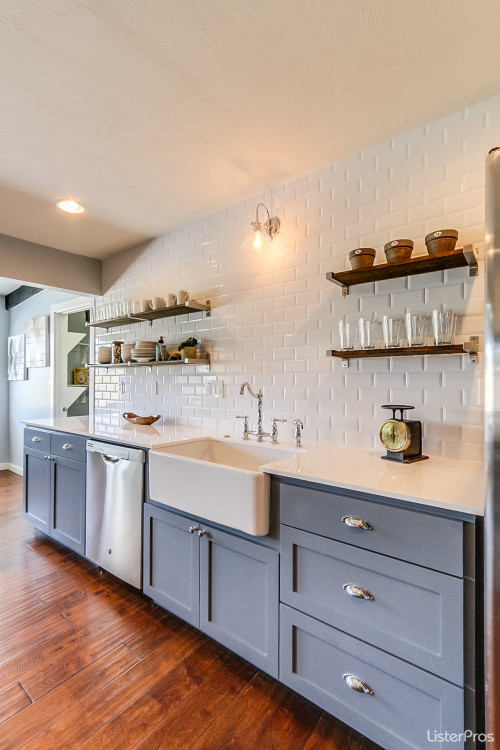 Source: hometalk.com
If your cabinets look out of date even with fresh hardware, then consider replacing the doors altogether. Replacing the doors is a lot cheaper than installing a brand new set of cabinetry, and it provides a world of new style possibilities for your space. Bonus points if you paint them in a fresh hue, like the stunning blue-gray pictured here.
Remove Your Cabinets

Source: beautifulprotest.com
In addition to installing new cabinet doors, you can remove your cabinets entirely to give your space a brand new appearance. Open shelving is hugely popular in interior design right now because it adds personality to a space while incentivizing you to keep your shelves clean and organized.
Add Task Lighting
Task lighting beneath your cabinets not only makes your design appear more dynamic and dimensional, but it also makes it easier to see what you're doing each day. And don't think you need a professional to install it—you can order simple strip light kits like this one that make self-installation a cinch.
Invest in a New Rug

Source: thegoldengirlblog.com
Never underestimate the power of a beautiful rug to elevate your design to stylish heights. Rugs add definition and intrigue to a space, infusing it with pops of color and setting the tone for the design. Whether you opt for a trendy geometric rug to add movement and structure or go with a classic kilim rug for timeless appeal, your kitchen is sure to be happier for it.
It's the perfect time to make these and other small changes so can enjoy your home for the whole year. Head over to our Tipbook to find more tips and trends for refreshing your space in 2019.
Leave a Comment