5 of the Coolest Direct-to-Consumer Home Brands to Elevate Your Aesthetic
Written by Kelly Weimert on Friday, January 31st, 2020 at 10:05am.
Among the biggest e-commerce trends to hit the market in recent years are direct-to-consumer brands. If you're not familiar with the term, a direct-to-consumer brand is just a fancy way of saying that the brand sells items without using a retailer, like a department store or boutique, as a middleman.
The advantage of this sales model for consumers like us is that it means products are typically cheaper without sacrificing quality. Retailers often mark up the items they sell to make a better profit, but because direct-to-consumer brands don't use retailers, you can avoid those mark-ups and receive a better deal.
All of that being said, there are now quite a few awesome direct-to-consumer home brands that you can take advantage of to elevate your aesthetic, equip your kitchen, and sleep more soundly, all for less than you'd pay for the same quality items at a retailer. Check out a few of our favorites below.
We're strong believers that plants make a house a home, adding literal and figurative life to any aesthetic. But if you don't have the greenest of thumbs, then buying the right plants, especially if you don't live near a great nursery, can be super overwhelming. Enter: Bloomscape. The brand ships healthy, beautiful plants right to your door, all of which come in chic, modern vessels that will complement any interior. And to make it even easier, you can search by factors like pet-friendly and easy-to-care-for, so you know you're getting the right plant for your household and abilities.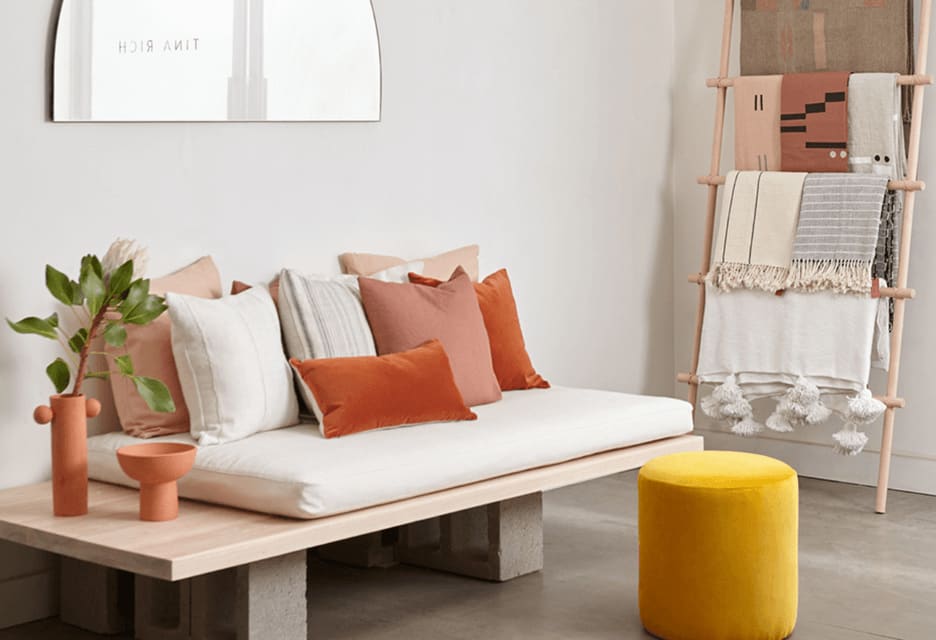 If you have a distinct design point of view and want custom pieces without paying custom prices, then meet your new best friend. Stitchroom lets you customize everything from pillows to seating to curtains, choosing the exact type of fabric, color, and pattern you want for a fraction of what you'd pay to do it through a designer. You can even send the company your current pillows and furnishings to customize, saving even more money. And you can do it all through the brand's easy-to-use app, which streamlines the whole process.
Brooklinen has won a ton of awards from the likes of Men's Health, Good Housekeeping, and Wirecutter for its ultra-luxe and comfy bedding, which prioritizes quality while minimizing cost. Sheets are among the brand's most popular offerings, which range from Luxe Sateen to Linen to Heathered Cashmere. But you'll also find premium duvets, blankets, and pillows in addition to crazy-soft loungewear and robes to further enhance your nightly rest. You can get the brand's bestselling sheets, Luxe Sateen, starting from just $54.
Caraway Home focuses exclusively on selling one quality item: ceramic cookware sets. Their cookware set comes with everything you need to equip your kitchen, including frying, sauce, and saute pans; a dutch oven; and magnetic pan racks and lid holders to keep your kitchen clutter-free. The non-toxic, non-stick, ceramic items are oven-safe up to 650 degrees and will ensure you don't eat your meal with a side of toxic chemicals. Featuring five fun hues to choose from and costing $395, you'll be hard-pressed to find similar-quality cookware at a lower price.
One look down the paint aisle of any hardware store is enough to overwhelm even the most savvy and opinionated interior enthusiast. Thankfully, sifting through thousands of shades that look very similar to one another is a task none of us have to take on any more. Clare was founded by interior designer Nicole Gibbons and offers a thoughtfully-curated selection of fresh, on-trend, designer-approved paint colors that make selecting the right hue a breeze. You can also take a two-minute quiz to help you hone in on the right hue and order free, peel-and-stick paint swatches that give you a precise idea of what the color will look like in your space.
Looking for more unique design ideas? Head over to our Tipbook, which is full of top trends and easy tips for enhancing your space, no matter your style.
Leave a Comment