5 Creative Ways to Fill a Blank Wall With Style
Written by Kelly Weimert on Tuesday, August 14th, 2018 at 4:08am.
Anyone who's been tasked with decorating an interior knows all too well the challenge that a blank wall presents. All of that empty space can be intimidating: you want it to be visually compelling without overwhelming the space, you want to be sure it fits seamlessly with your aesthetic, and you also want it to be something you love to look at that's reflective of your personality.
Checking off all of those boxes can feel like a struggle, but it doesn't have to be. The following ideas are a cinch to integrate and they're incredibly easy to adapt to any look, no matter your unique style sensibility.
Add Some Ledges
Ledges are a simple and easy way to display your favorite photos and artwork, and they tend to be a bit more intriguing and dynamic than standard nail-hung pictures. To really elevate your ledge display to the next level, play with different sizes and hues, and don't be afraid to overlap them to create cozy layers, like this look from Style at Home.
Bring in Plants and Texture
This idea is particularly suitable for a boho-chic aesthetic, but truly anyone can benefit from it. Plants have a knack for instantly adding life and movement to a space, and when you pair them with woven art, like this look from Old Brand New, you'll have an inviting, homespun design that's overflowing with good vibes.
Incorporate a Mirror and Console Combination
Entryways are notoriously tough to style with intention, but this idea makes it a breeze. Pairing a large mirror with a well-curated console, like this design from Homey Oh My, will expand your visual space while giving you the opportunity to showcase your favorite items. Plus, it provides a practical place to set your keys when you walk inside the door.
Hang a Wall Tapestry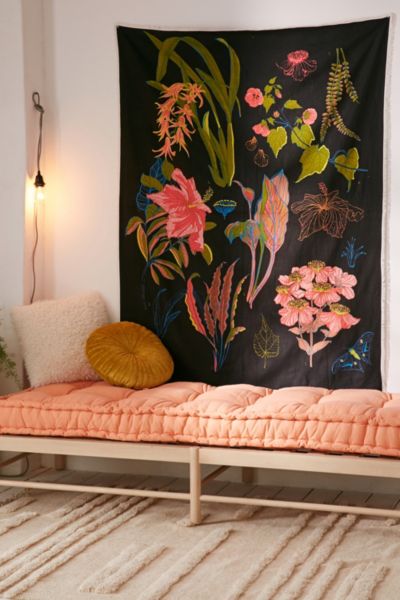 If you're in the market for a fix that's as quick as it is compelling, look no further than a wall tapestry. Tapestries are a great way to make a big splash, adding bold patterns and eye-catching hues to your design, in just a few minutes. Plus, they come in infinite styles, from simple stripes to trendy botanical prints, like this tapestry from Urban Outfitters.
Integrate a Bookshelf
Bookshelves never go out of style, and they're a great way to add color and texture while showing off your favorite stories. Even better, there are truly limitless ways to style them. From arranging your spines in rainbow order to displaying your books pages-first for a monochromatic look, like this one from Apartment 34, there's no end to the style potential.
Looking for more style tips to spruce up your home without breaking the bank? Head over to our Tipbook to find the latest interior design trends you can apply today.
Leave a Comment