10 Spaces That Nailed Chic Halloween Decor
Written by Kelly Weimert on Tuesday, October 2nd, 2018 at 10:09am.
Image Source: Happy Grey Lucky
Fall is officially in full swing, which means it's the perfect time to add some fun and festive Halloween flare to your space. That said, it's not always easy to find the right balance between festive and tasteful. If you lean too far festive, your space can approach tacky territory. And if you focus too much on tasteful, then your design may not look festive at all.
Fortunately, the Internet is full of home design enthusiasts who perfectly toe the line between playful and sophisticated Halloween decor. If you're not sure where to begin, start by checking out these spaces to get your spooky inspiration flowing.
Teeny Tiny Pumpkins
When it comes to bright orange pumpkins, a little goes a long way. These teeny tiny pumpkins from Designing Vibes bring festive flare in a cohesive and contained manner.
Monochrome Magic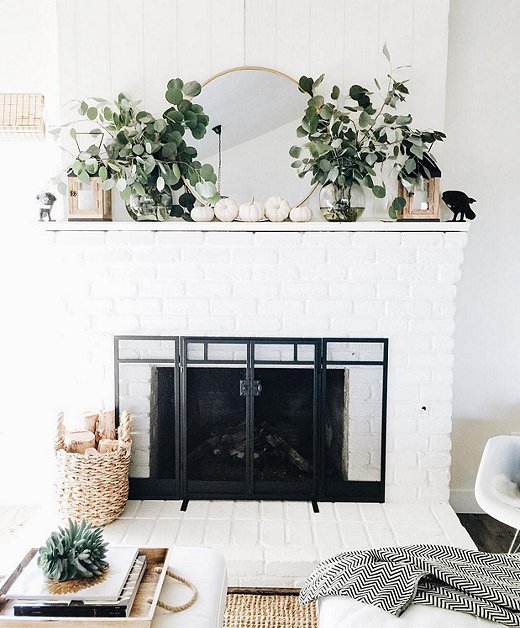 Halloween decor need not be all black and orange to be effective. If you're working with a subdued color palette, consider adding white-painted pumpkins and a raven or two, like this design from Michelle Janeen.
Splash of Foliage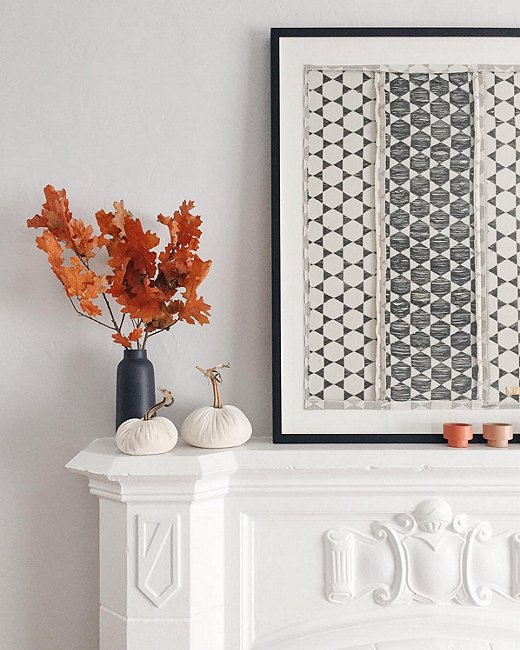 Speaking of white pumpkins, try pairing them with a vibrant spray of fall foliage to create a compelling contrast, such as this look from Ginny Macdonald.
Effective Minimalism
You don't need much to make a big Halloween splash. This minimal set up by A Beautiful Mess only has three items, but it's striking all the same.
Innovative Carving
Grab some gourds of varying shapes, colors, and sizes, and follow this tutorial from Design Love Fest to create an equally twinkly and sophisticated pumpkin vignette.
Elevated Porch Style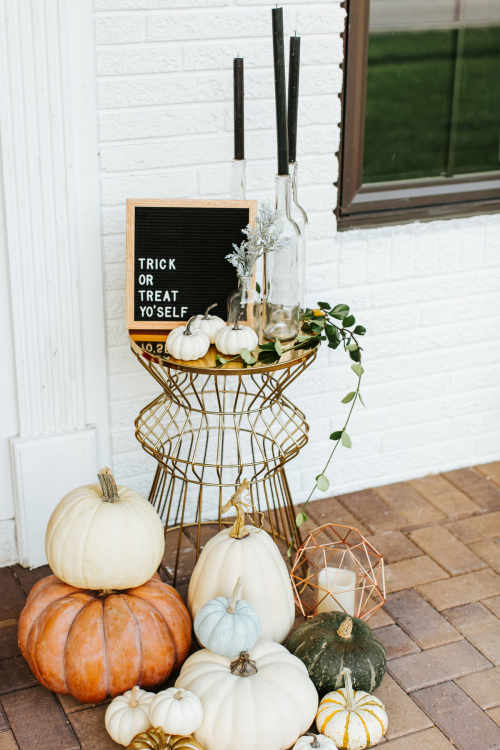 Typical porch jack-o-lanterns are often eaten by critters before Halloween strikes. Instead, keep your porch gourds intact and pair 'em with a geometric table and some sign art, like this design from Apartment Therapy.
Festive Gallery Wall
Rather than clutter up your space with loads of extra decor, consider creating a Halloween-themed gallery wall, like this design from Happy Grey Lucky, to make a festive impact without the clutter.
Party Table
This space from The Beauty Dojo provides the perfect inspiration for chic Halloween party decor. Simply make a few custom containers, add some black-and-white pumpkins, and you're good to go.
Wall Decals
Unobtrusive wall decals are a great way to add Halloween flare without encroaching on your square footage. Bonus points if you complement them with some spooky skeletons, like this look from Michelle Janeen.
Spooky Tablescape
Your table is packed with Halloween decor potential. Make a stylish statement by painting a cohesive message on some monochrome pumpkins, like this design from ModShop.
Enjoying our spooky styles? Check out our Tipbook for more interior design inspiration to keep your decorating game on point - for holidays and every day.
Leave a Comment